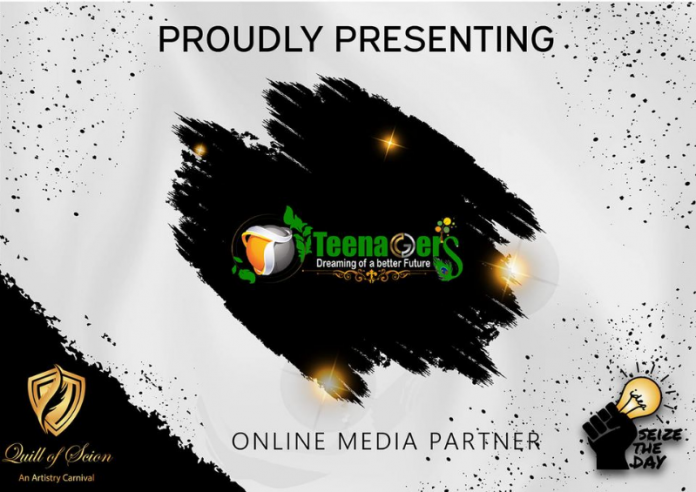 Quill of Scion- An Artistry Carnival
Movies, Series, Music, and Books- these have been the most popular source of entertainment in recent times, especially in this pandemic. The young minds regularly watch Movies and Series and listen to Music. But ever thought how the time that we use can be utilized using the thrill and experience that we gather meanwhile?
Seize The Day presents to you a new platform to unleash your creativity and capability in our new event-"Quill of Scion- An Artistry Carnival"
Quill is the feather pen that used to be used in writing purposes and Scions are the voices of the future world, the young generation who are going to be the successors of present leaders.
Seize The Day welcomes you to take your Quill and express your unwritten thoughts.
We always try to create a better platform to explore youth's talents to the world. Now, for the Youths who are fond of books, movies and series, music and passionate about writings and Theme Photography "Quill of Scion-An Artistry Carnival" is the best platform to unleash yourself differently.
Segments of the Carnival :
?Book review (Bangla)
?Book review (English)
?Movie review
?Series review
?Theme photography
?Story writing (Bangla)
?Story writing (English)
? Music
⏩ Registration procedure:
Students from any school, college, and university are allowed to participate. You have to fill up the registration form After sending "Registration Fee." The registration form will be out soon.
The registration fee for:
One segment – 50 BDT
For participation in more than one event, BDT 25 will be added for each segment.
Please use"Send Money" for sending the registration fee in any of the given numbers:
01681-271006(Bkash-Personal)
01768-409546(Bkash-Personal)
01768-409546(Rocket)
After sending the money, Participants must inform their Campus Ambassador and send a message ? to 01768409546 or 01681271006 Mentioning the following information:
1.Full Name
2.Name of segments of participation
3.Transaction number
4.Transaction ID
After sending the Registration fee,fill up the Registration Form.
Registration Form:
https://forms.gle/APmVjSUjn5pZnjWm7
Seize The Day offers you to lead your institution in this event and become a Campus Ambassador from your beloved institution.
Campus Ambassador Registration Form:
https://docs.google.com/forms/d/e/1FAIpQLSd3XLFJ3I4Qp5WlygoV8DHMGpNbuvYxwHTeegtr5CCRvwswfg/viewform
? Inclusions:
1. Exciting Prizes
2. Participation Certificates
3. Appreciation Certificates
4. Campus Ambassador awards
Rules:
*One can submit only one (01) content for each segment.
*One participant can participate in as many segments as one wishes.
*Allowed to choose only 1 Book/ Movie/ Series name for review writing.
*Plagiarism prohibited.
*Word limit 700-800.
*Submit the pdf file only. Decorate your cover page with Full Name, Institution, Class, Phone number, Email Address, and Name of Segment.
*Submission will be taken via google form which will be provided soon.
*Decision given by judges will be final.
? Further information will be posted from time to time. So guys stay connected with SEIZE THE DAY and get ready for the blast ?.
For any query please feel free to contact us:
Mail: [email protected]