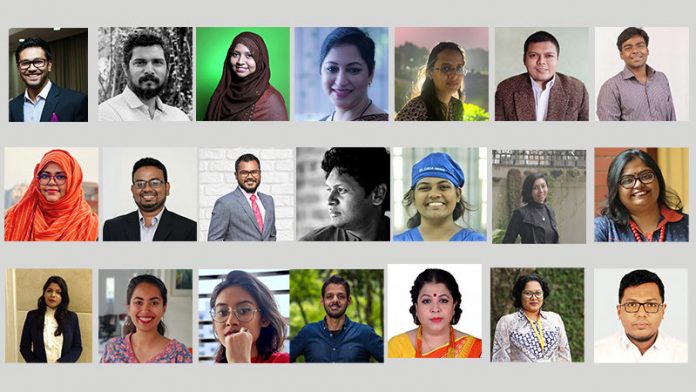 22 Bangladeshi youths received Acumen Fellowship. Acumen, an international entrepreneurial organization, has given fellowships to 22 young Bangladeshis by selecting them as change makers. According to a press release in this regard, after more than five months of in-depth observation and verification selection, the second group of 'Acumen Fellows in Bangladesh' has been selected as 'Change Maker'.
This group of 2021 includes those who are successful social entrepreneurs in both profitable and non-profit sectors. They have taken initiatives for change in various organizations, challenged existing problems and told stories like changing conventional statements.
These 22 change makers are:
Fahad Ifaz, CEO, Ifarmer

Subrata Kumar Kundu, Founder CEO, Good Social Enterprise

Addin Maureen, Manager of Operations, Bangladesh Youth Leadership Center

Sajida Rahman Danny, Chairman, PFDA- Vocational Training Center Trust

Shamsin Ahmed, CEO and Chief Advisor, Identity Inclusion

Mohammad Rezwanur Rahman, Project Coordinator, Inclusive Bangladesh

Devajyoti Saha, Managing Director, Kaizen Research Specialist Limited

Maliha Fauzia, Program Director, Teach for Bangladesh

Jahedul Amin, co-founder and director, Lightcastle Partners

Avik Alam, Founder, Webable Bangladesh Limited

Saiful Haque, Principal, Center for Visual Arts at Counter Photo

Dr. Sakia Haque, Founder, Travelers of Bangladesh and Medical Officer, Disease Control, Office of the Civil Surgeon, Cox's Bazar

Sayeda Samara Mortaza, Regional Movement Builder, Asia, Shi Decides

Trisha Nashataran, Founder, Project Designer and Coordinator, Girl Network

Umama Zillur, Founding Director, Kotha

Shahriar Rahman, CEO, Creative Conservative Alliance (CCA)

Swarnalatha Roy, President, Sylhet Women's Chamber of Commerce and Industry

Asiya Khaleda, Founder Managing Director, Women in Digital

Md. Saddam Hussein Rony, Senior Operations Coordinator, Drinkwell

Eshrat Waris, Principal, Product & Business

Mr. Soul Share

Umm Sharmin Kabir, Founder, Uritu.

 
These selected entrepreneurs work in different sectors and represent different geographical and social backgrounds. They have demonstrated their commitment to poverty alleviation and the fight against injustice through their work. The group was selected through a two-day virtual selection conference. There, these 22 people were selected out of 57 people in the final round. There were 246 entrepreneurs in the initial short list. They were shortlisted by 45 local and international Acumen panelists. Apart from Bangladesh, the fellowship is also open to entrepreneurs from India, Pakistan, Malaysia, Spain, the United Kingdom, Colombia and East and West Africa. After completing these 22 fellowships from Bangladesh, they will join the Acumen community, which consists of more than 700 fellows from around the world.