Some people's talents are evident from a young age. At an early age they became known as the Genius Child. When all the other children and adolescents grow up in a normal way, these children are far ahead of their peers in thinking consciousness. Just as everyone can easily recognize the most fragrant flowers in the garden, so too can these children be easily recognized by society. Such a fragrant flower is a talented child Adiba. Full name is Adiba Abrar Chowdhury.
Adiba Abrar Chowdhury a 8 years old Girl  Is a Almighty gifted extraordinary talented girl who is well known for her paintings, storytelling and public speaking. Adiba was born on 10 th June 2013 In Dhaka  and is staying in Banani Dhaka still now. She is the only daughter of her parents.
Her father is a corporate lawyer and social worker and her mother is a  Home Maker.  She is from Habiganj district under Sylhet division.  At the age of 4, She received the National Award from the Hon'ble Prime Minister Sheikh Hasina for her painting.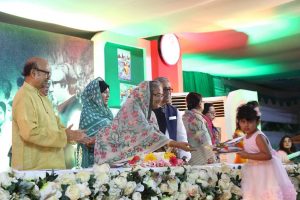 She has won gold medals from Japan and India for her paintings. also won numerous prizes from Bangladesh International School by participating in painting, She has already sunged and sura recitation (kerat) competitions.  She can sing thirty famous Bengali song which is already telecasted in different tv chanel and live programmes. Also She is awrded for her mental Arithmetic from Smart brain Thailand.
At just 7 years old, She completed a certificate course on Artificial  Intelligence as the youngest from the famous University of Helsinki in Finland.  He has already participated in numerous live broadcasts including BTV, Channel I, ATN Bangla,Duronto TV, ATN News.
Also live programs at home and abroad.she also make travel Vlogs and She is doing coding courses regularly to achieve her dream to work in the field of Artificial intelligence.
Her hobby is cycling, swimming & and travelling.
page:
https://www.facebook.com/adibaabrarchowdhury/ and youtube chanel : https://youtu.be/l5VyDqFG-Tk
Some link where She is focused and Her news covered for her Extraordinary    achievements.
channelilive/videos//
https://www.facebook.com/channelilive/videos/462064731643678/azS