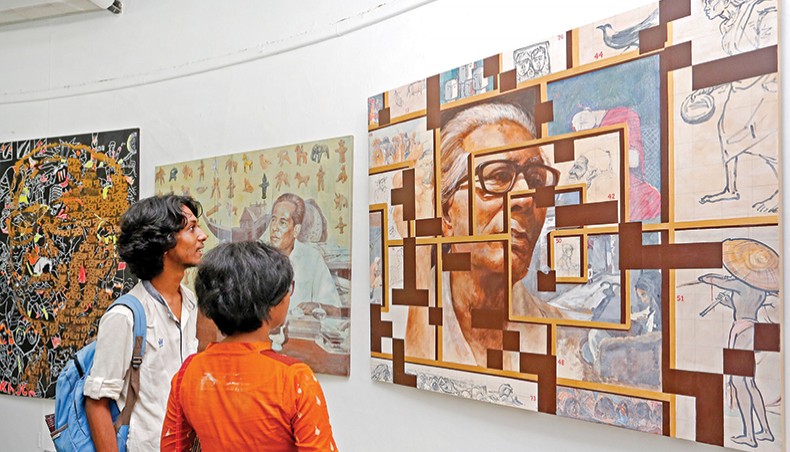 Artist of exceptional talent -Zainul Abedin the pioneer of the modern art movement and a legendary Bangladeshi painter was born on 29 December, in 1914, Kishoreganj, East Bengal. In 1933, he was admitted to the government school of Art in Calcutta (now government College of Art and Craft, Kolkata, India). For five years he learned British /European academic style and later he joined the faculty of the same school after his graduation. He was the First Muslim student to obtain the first-class distinction from the school.
In 1948, with the help of a few colleagues, Zainul Abedin found an art institution in Dhaka. Soon after, it went on to be considered the best art institution in Pakistan. After completing his two years of training from Slade School of Art in London, he started a new style 'The Bengali Style' where the main features were -folk forms with their geometrical shapes, etc. But later realizing his limitations he went back to rural life to make art that would be realistic but modern in appearance.
In 1943, he drew a series of sketches on the man-made famine that had spread throughout Bengal killing thousands of people. Done in Chinese ink and brush on cheap packing, the series is known as 'Famine', sketches with haunting images of cruelty and the utter helplessness of the victims. In 1969 and 1971 Zainul Abedin executed a few of his masterpieces that portrayed the peoples' suffering, struggle, and protest. 'The Rebel Crow' in 1951 marks a high point of his style at that period. Besides 'Two Santhal Women'(gouache, 1953),'Painyar Ma' (gouache, 1953), 'Four Faces' ( oil on board, 1953)are some notable paintings of Zainul Abedin.
On the other hand, the 65 feet scroll painting (in Chinese ink, watercolor, wax) 'Nabanna' that he drew in celebration of the 1968 mass movement and also 30 feet scroll painting 'Manipura' done to commemorate the peoples died in the devastating cyclone of 1970 showed his dynamic style in his paint.
In 1975, Zainul Abedin set up a folk museum art at Sonargaon, and also a gallery in Mymensingh ( Shipacharya Zainul Abedin Museum) to gather and house his works. He became actively involved in the movement to preserve the heritage of Bengal, Bengali art, culture, etc.
This legendary artist's art reflects the life of peoples' loves, sorrows, pains, struggling, and dreams. Sometimes he held up his brush to express different situations of different crucial periods and protested against non-democracy.
This legendary artist of Bangladesh was effected in lung cancer and left the world on 28 May 1976, in Dhaka. We are really grateful for this talented artist. His missing is not at all compensated by anyhow.