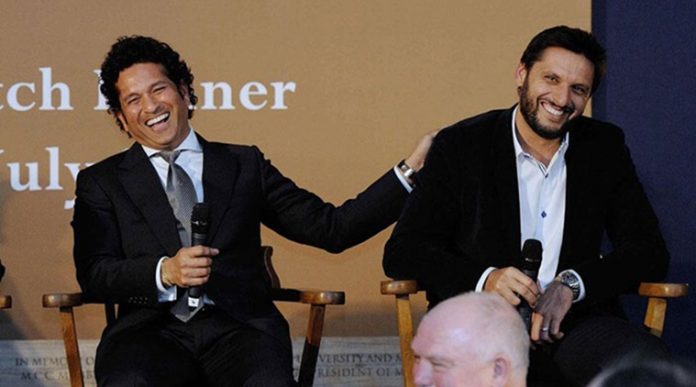 Afridi set a century record with Sachin's bat.
In the second ODI of his career, Shahid Afridi set a record of 36-ball century. But he had a place in the team as a bowler. As a replacement for leg-spinner Mushtaq Ahmed. Afridi scored that century against Sri Lanka with the bat given by Sachin Tendulkar.


Azhar Mahmood, the pacer who made his Pakistan debut with Shahid Afridi, shared that memory in a podcast for the popular cricket magazine Wisden. "Afridi was called up to the team due to the injury of Mushtaq Ahmed," he said. At that time, Sri Lankan opener Sanath Jayasuriya and wicketkeeper Kaluvitarana were attacking from the front.
That's why we wanted someone in the team who could attack and play. Wasim Akram arranged me (Azhar Mahmood) and Shahid Afridi for that place. Asked to practice slog sweep on the net. I came back with a fairly good slog shot, then Afridi went into the net against the spinners in a murderous mood.
The next day in the match against Sri Lanka, it was decided that Afridi would bat three. As far as I can remember, Waqar Yunus got a bat from Sachin Tendulkar. Afridi played with that bat and scored a century. In fact he was a bowler; That can take shots to say out loud. In the end, Afridi has a great international career.
Shahid Afridi's record for the fastest century in Nairobi in 1998 lasted a long time. Later in 2014, Corey Anderson broke that record by scoring a century off 36 balls. The following year, in the 2015 World Cup, South Africa's ABD Villiers set the record for the fastest century by scoring a great century off 31 balls.