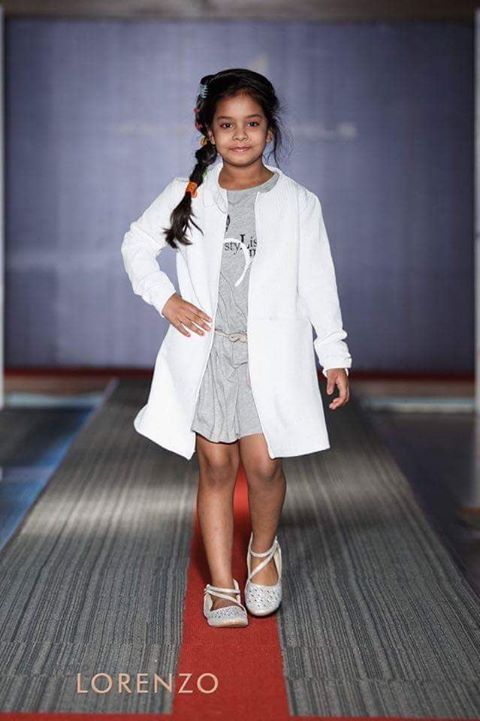 There are so many talented and brilliant child actor &actresses are engaged in the film industry in Bangladesh—" Nilam Binte Ashraf Arana" is one of them. She repeatedly performed in TVC, OVC, and in TV DRAMA serial and also, she often involved in several ACTING, DANCING, LIVE PROGRAMS related works for the different products in Bangladesh..
Arana is very much devoted, dedicated, and enthusiastic for her each and every works. She's always trying her best in her every work like modeling, Photo Shoot, dancing, Singing.
Day by day she is becoming the most adorable and acceptable Child Artist in Bangladeshi Media.
In her current short career, she spectacles a lot of artistic, imaginative, inventive, creativity and innovative in her works in the media. She always tries to show a state-of-the-art style in her every works in media line.
Birth, Family& Education:
Arana was born in 10th November, 2011. Her birth place is in Dhaka.She is the only & dear daughter one of her parents. By profession her father Ashraf Hossain is a Businessman and her mother Mrs. Kanta Ashraf is a house wife. Arana is very much adorable by her all family members. Al of her friends and teachers loves her so much and they always appreciate her in Modeling.Young actress Arana, currently studying in class 3 at Faizur Rahman Ideal Institute.
Award & Achievement:
Arana performed in many competition & also won in many programs.
Besides her education, Arana is trying to keep learning in dancing, singing, drama acting, drawing in different academy in Dhaka.
Currently she is engaging in dancing and drama acting in her school also. She is an all-rounder girl who is expert in many things like Swimming, Riding Bicycle etc. Cycling is one of her favorite things.
Sometimes she helps her mother in cooking food and others household works. Arana always trying to learn new things in her everyday life.
Career &Future Plan:
Arana started her journey in media at her early age with a dance program and then she started engaging in TVC. Since then she called up for various type of media works and then she never looked back.
Over and over again she signs up for different type of TVC, OVC, Drama for different products. Arana even act in the TVC/OVC of Fresh Tissue, Vaseline,and so on.
She wanted to be banker but also trying to be a model also by participating in various shows and programs.
Some work of Arana:
OVC:Saudia May Day (National Program).
TVC: Fresh Tissue, Vasline, Pran, Tata Tea, IFA Food Drink, Mineral Water, Ujjiben.
Drama:SomoyerGolpo, BunoHaansh, AajSukrober, Episode, Competition, Valobashar Choker Jol, SeshBikel.
Movie: JodiEkdin
Music Video: Paan, Amar Bangladesh
Fashion Show: Fakir Group Industry, Shoisob Bangladesh Kids Fashion
Live Programs:Janar Ache Bolar Ache, Super Kids Super Parents, Durdanto Kid Hour
Towards the end Arana always trying to do her best in her educational curriculum program. Her dream is to be a Banker. Beside this she would love to be an actress too.
https://www.youtube.com/watch?v=onM9ihWF-YY&feature=youtu.be&fbclid=IwAR1DKTy6LFQ9UqmH8epSSmZk0VgRJ8_aW_oeRPZuuhJFjcyogxwhDp_AP9Ahttps://www.youtube.com/watch?v=xoQB6CB627g&list=PLYHGu5ccWfget93uJo6JX03PhfhUKmsl5https://www.youtube.com/watch?v=cWnKOCBltowhttps://www.youtube.com/watch?v=O0YyZof6kO8https://www.youtube.com/watch?v=zwuQh8qrEFUhttps://www.youtube.com/watch?v=Y9GrSQMhrhs
Links:
EiPran Amar Bangladesh Music Video :https://www.facebook.com/watch/?v=545010765698316
TVC,OVC& Others:
https://www.facebook.com/watch/?v=1562899313720316
https://www.facebook.com/uzzalrahmanuing/videos/10216421071103075/
https://www.facebook.com/watch/?v=2123648877957946
https://www.facebook.com/watch/?v=231291684095803
https://www.facebook.com/watch/?v=1994996657439642
https://www.facebook.com/watch/?v=2964425930298237
https://www.facebook.com/watch/?v=2011147922529339
https://www.facebook.com/watch/?v=1391348994344227
https://www.facebook.com/watch/live/?v=1655622544613528&ref=watch_permalink