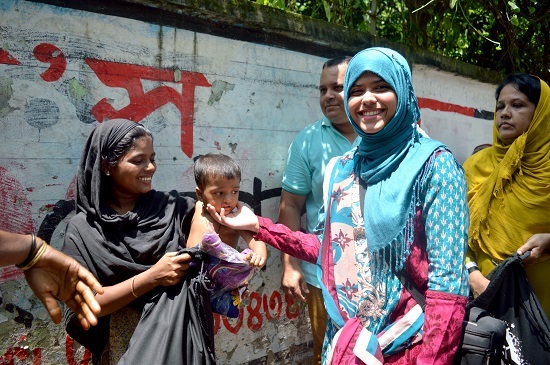 I, as well as my friends always try to find something new to do. One rainy day, I along with Sristi were heading to our house and suddenly we saw a cute little baby girl in a slum. She was stuck in our mind and we planned to buy something for her.
After passing a year so fast, I couldn't forget the baby named Fatema. So, I went to the slum to see her with Raka. And while we were returning from there, I told Raka if we could do something for Fatema's family. Raka said that we could do not only for the family but also for the slum-dwellers. As winter was knocking the door, I proposed that we should talk with others about it and we should see if we could manage some dresses and blanket.
After returning to my home that day, I opened a group chat with my close friends. Most of them were interested. And they requested me to give a status on Facebook about it. And within 10 hour we found all about 15 people who wanted to work with us. All of them contributed as much as they could. Soon we calculated how much money we could collect and made a budget according to it.
Then Ritu and Prince went to the slum to enquire how much babies there were in that slum. We wanted to buy new clothes. We found 15 kids in the slum and 12 old women and men. We made a list of kids and found that we needed about 4500 Taka for buying new warm clothes for those kids. We were not sure about if we could collect that amount or not. Our campaign was on. Then I talked with others to fix a date for distribution.
As we are from different colleges, our classes and exams are not held at the same time. So, we fixed 16 December as our desired date. At the same time, we also fixed a date for buying things. And just like a miracle our total collection was 6600 Taka within a short time. We were so happy as we would be able to buy warm clothes for the oldest also. On the fixed date three of us went to shop and we found a senior shop keeper who came to know about our deeds and he did the bargaining for us and for that reason, we get baby sweaters in cheaper price than we expected. So, after buying warm clothes for kids, we had 2400 taka more.
With that money, we easily bought another 12 warm clothes for the 12 old men and women. And we returned home with a very satisfied smile. Along with those works, I thought that we should choose a name for this and I gave it's name"Warm Smile" and also made a sixty degree ambigram of the name though I didn't know how to make ambigram. It was my first ambigram. The name was also set as our group name.
Two days before our distribution, I discussed with my friends and fixed time and place where we would meet. Then I informed all the members who were involved. As I couldn't connect with all of them over phone, I published a little post about the date and time and tagged my group members. At that night, I got a call from one of my old friends, Anannya. At the very beginning, I talked with her about the campaign.
I believed in her that she would help use but because of her some major technical problems, she could contribute us money. At that night, she ensured me to contribute some money. On 15 December, after getting money from her, I rushed to the market to buy 5 blankets with her thousand Taka. The following day was 16 December, our Victory Day. We, the thirteen members, reached at the respective place. When that procession of college-going-students reached the spot, the children of the slum following some elderly people gathered around us. We had prepared a list before. That's why we didn't face any difficulties or anarchy.
Those sweaters were divided according to their sizes, we could distribute them easily within a moment. The innocent smile of the children and the tears of pleasure of the elderly people overwhelmed us. Nothing but these feelings were the reasons for our endeavor. We had passed quite a mesmerizing time. We didn't take any pictures. Why should we? We didn't want to let other people see as we are against showing-off. We did all these things for our mental peace as well as for humanity.
It might be regarded that we are quite a few in number but it's not totally zero! If our little effort makes some poor people smile, will it be regarded less? Let people rebuff, let them find out defects. They don't even know the warmth of the feelings. Based on our little experience, we would do the same again and again. In order to get this kind of evergreen feelings, we can consciously and rationally spend our daily allowance. We all know that little drops of water make the mighty ocean. Please pray for us. A little message for all that we did, we are doing and we will do if Allah wants, you may do as well.
Written by: Tasnuva Chowdhury
Rajshahi College