A six-year-old Iranian boy who first stunned the world with his incredible football and gymnastics skills has now amazed followers with his surprisingly chiseled physique. Arat Hosseini has been trained from a young age by his father who posts images of his son on his Instagram page.In them, the six-year-old is pictured showing off his toned six pack and biceps, which are unusually pronounced for someone of his age.The pictures have lead to many of his four million Instagram followers to say he could be the strongest six-year-old in the world.Arat gained international attention when videos emerged of him scaling walls in his parents' house when he was just three, and when he was four, a video of him playing football also went viral.
The video, in which many viewers mistook Arat for a girl with his long hair, showed him in a Real Madrid shirt while dribbling a football with an incredible amount of control for someone of his age.He reportedly trains hard because he wants to look like his idol, global football superstar Cristiano Ronaldo, who currently plays for Juventus in Italy. Arat's father, Mohammad, has reportedly been training him since he was a toddler. He has said that his son first started doing gymnastics when he was nine-months-old.It wasn't until he was around one, though, that the family began to take the youngster's athletic talents more seriously, allowing him to train for around 20 minutes per day, his parents have said.
Through dedicated training, he has been able to master a number of complicated gymnastic poses and athletic feats, with Mohammad overseeing his son's development every step of the way. Arat soon discovered football, and proved to be very skilled at it, and has even drawn praise from Ronaldo and Barcelona's Lionel Messi – another of his idols.Speaking to Iran Front Page, Mohammad said: 'After realising my son's talents, at the suggestion of those around me, I opened a page on Instagram, which was extraordinarily welcomed not only in Iran but also abroad.'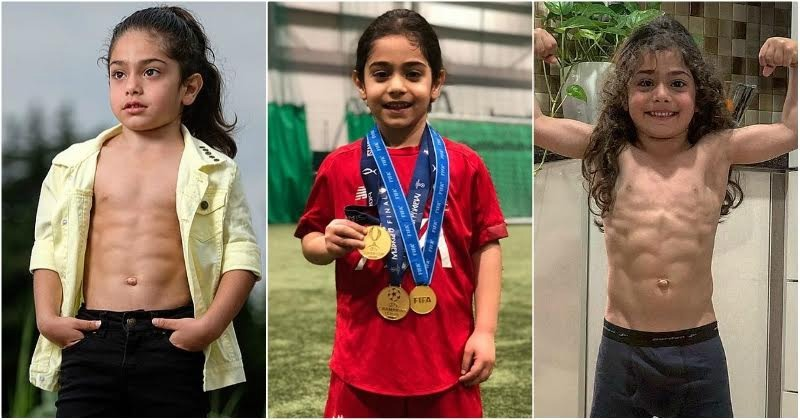 Arat has previously spoken of his dream to become an Olympic champion and to play for Spanish super-club Barcelona FC. In addition to training with Liverpool's academy, he has reportedly drawn interest from Arsenal, Manchester United and Barcelona.Mohammad has said that while he and Arat have no intention of returning to Iran permanently, they wanted to go home for the holidays.
'We have no intention of returning to Iran. We wanted to travel to Iran for a few weeks for the holidays, but it was not possible due to the cancellation of flights after the outbreak of the coronavirus.'
The father has drawn some criticism for pushing Arat too hard and thus depriving him of his childhood, but he has said that Arat has always been an active child and is very interested in athletic activities.He maintains that he has only helped guide Arat by training him, and has always acted in his son's best interests.When kids see superhuman characters like Batman, Superman, and Spiderman, they wish to become like them. Kids guard the figurines of their heroes fiercely and dress up like them for theme parties and at fancy dress competitions. In reality, only a few are blessed to be like them. One such extraordinarily-gifted child prodigy is Arat Hosseini from Iran. Arat was all of nine months when he began practicing calisthenics poses. Today, he performs tricks that only trained gymnasts with years of practice can do.
At the tender age of three, a toddler usually learns to walk, wash hands, balance on a beam, and turn pages. It would be a big deal if the kid is ready to be potty-trained. But Arat Hosseini from Iran had become a huge sensation on social media, drawing millions of views for performing awe-inspiring stunts. He had garnered over 6,500,000 on Facebook when the news was published in 2017 and presently has 3.9 million followers on Instagram. His videos and pictures showed him performing gymnastics and other stunts without handholds or any modern equipment. His huge fan base on the Internet addresses him as "Spider Boy."
It is indeed commendable that Arat acquired all the expertise at home and with no special equipment or coach. As his family lived in a small town and very far from big cities, the facilities were simple and limited. Mohammad, Arat's proud father, has been a constant support in his life, overseeing his development at every stage. He is no coach or athlete himself. He began to coach Arat based on an online video about gymnasts.
Mohammad got to know of Arat's unusual strength when he was just three months old. Arat tried to lift himself up just by grabbing his father's finger. Later, he was able to hold on to tiny handles that his father built, much before he even learned to crawl. When he turned one, his parents took his talents seriously and allowed him 10-20 minutes of practice initially. The duration was increased up to an hour as Arat grew older. His prowess increased over time, and at 14 months, he did 15 backward somersaults in a row.
Even at an early age, Arat could perform handstands and pull-ups with remarkable ease. He has performed press-ups with a 6.5 kg weight and sit-ups with a large weight. Videos and pictures of Arat show him jumping off cupboards and flipping from drawers onto a mattress. He had also aced balancing splits and backward walkovers. At the age of four, he was already sporting an impressive six-pack.
Arat is six now, and he has taken his love for sports to the next level. His love for football has won him the Ballon d'Or six times, an annual football award by France Football, a news magazine. He has even received compliments from Messi and Ronaldo. He has now moved to Liverpool and is training with the Liverpool FC's academy. Popular football clubs such as Arsenal, MU, and Barcelona have expressed interest in him. He trains hard to look like his idol, Cristiano Ronaldo. The latest video showed him doing three thousand kick-ups with a football wearing a Barca teeshirt, and that got him to rave reviews.
It never occurred to Mohamed Hosseini that his son, Arat, who was born on 30 September 2013, would one day become a social media sensation. But that is precisely what he is now, as more than four million followers on Instagram can attest.Still only six, Arat has become the talk of football fans everywhere thanks to the incredible skills that have prompted a host of football stars, including Lionel Messi, to praise his talent and signal a very promising future.
FIFA.com caught up with Arat's father, who discussed his son's talent, his expectations for him and his son's dream of becoming the best footballer in the world.Six-year-old Arat Hosseini has become a social media sensation.He has more than four million followers on InstagramArat is hoping to become the youngest player to feature in the World Cup.
From gymnastics to football
Arat's talent is not limited to football. Anyone who sees his diminutive physique cannot fail to notice his toned stomach muscles and firm hands. Mohamed discovered that his son had unusually strong hands when he was three months old, which encouraged him to enroll Arat in gymnastics classes.
"When Arat was a little boy he was constantly moving and was always active. He started doing gymnastics even before I brought him to a small club. He was very enthusiastic. He was five at that time and I encouraged him and sought better opportunities for him. He's been always passionate about sports," Mohamed revealed.Asked about the global fame his son achieved, he said: "Arat became well-known in Asia as a gymnast when he was very young. When he started playing football, more people around the world started to watch him, and we got a chance to talk to many people including celebrities like DJ Khaled and Novak Djokovic. Arat is now considered a role model for kids, which is great."
Mohamed recognises the pros and cons of fame, especially on social media, something he advises his son on.
"I talk to Arat about the positive responses we get to his videos, and I use that to motivate him to achieve his goals. However, at the same time it's very important to protect children from the downsides of social media. After all, he's still a child who is growing up and learning as education is very important for us," he said.
Small six pack. That's the physical description of Arat Hosseini. He is only 6 years old, but his physical appearance is already able to make people amazed. Adults can be 'half dead' trying to get a belly like torn bread. However, it is not impossible for Arat. Even so, Arat did not aspire to become a bodybuilder. Said his father, Mohamed Hosseini, his son who was born September 30 2013 wanted to become the world's best soccer player. Why was Arat able to have a six pack body at a young age? His father said he realized his son had very strong hands when he was three months old and that prompted him to enroll Arat in a gymnastics class when he was five. Arat Hosseini. Photo: Instagram/@arat.gym zoom-in-whiteZoom in Arat Hosseini. Photo: Instagram/@arat.gym "When Arat was little, he was constantly moving and always active. He started doing gymnastics even before I took him to a small club. He was very enthusiastic," Mohamed told FIFA.com. ADVERTISEMENT In fact, the name Arat Hosseini has been famous since 2017. At that time, a number of videos circulated showing the actions of this Iranian boy doing pull ups, climbing walls, and doing somersaults from quite extreme places. In addition, at that time Arat also showed his ability when swimming. He also demonstrated the ability to run at high speed on the treadmill. "Arat became famous in Asia as a gymnast when he was very young. When he started playing football, more people around the world started watching him, and we got the chance to talk to many people including celebrities like DJ Khaled and Novak Djokovic," explained his father.
Arat Hosseini's football goals Arat openly told his father that he wanted to become a world-class professional soccer player. Mohammed said he would support his son's wishes. ADVERTISEMENT "I'm sure he will become a great player. He is very talented and self-motivated. It's a long journey and we will maintain our focus and aim to achieve it. He will be the youngest player to appear in the World Cup," he said. If you pay attention to his personal Instagram, you will see Arat wearing the Barcelona jersey several times. Even so, his father enrolled him in the Liverpool academy. "We are thinking about the future and the steps we can take. Nothing will stop us. Arat loves school and football," said Mohammed. "He is currently training with the Liverpool FC Academy and wants to be the best player in the world. So I am doing everything I can to help him," he added. ADVERTISEMENT The father several times uploaded moments of Arat playing football on Arat's Instagram account. One of them, Arat's action, which plays like Lionel Messi. His dribbling, kicking and kicking abilities are amazing. Will the public see him win many Ballon d'Or trophies in the future?
Originally, he was mistaken to be a girl due to his long locks and is reminiscent of a former Ajax prodigy Sonny Pike.
Instagram has found a new kid sporting sensation in the guise of Arat Hosseini. The 5-year old Iranian boy has caused a storm via his social media handle with his footballing skills. Originally believed to be a girl, he was already famous in the web due to his physical training regime from a much-more early age.
Born in 10th October 2013, he was trained to be a gymnast when he was just 1-year old by his father, and without any sponsorship. According to his father, the boy was found to have strong hands and legs at just 7 months of age. At the age of 3, he could do some serious acrobatics like handstand, and jumping from tall heights. His father also reportedly quit his job to train him, and it is alleged that the kid doesn't practice in a gym.
Now it seems like, the Babol-born kid could be moving towards the direction of being a professional football player, with some serious skills and tekkers displayed in his Insta account.
At a very young age, he already has a physique which can make any adult jealous of him– and boy, he does have some serious skills and technique! In one video, he can be seen playing 1v1 against a boy stated to be two years older to him. Arat displays his body strength and skills, to overpower and outplay his opponent in all possible situations.
In his most recent video, he can be seen completing owning another kid who is possibly older than him. Arat dribbles past him in all possible 1v1 situations, and scores goals with comfortable ease. It is obvious that Arat's father manages his social media account, and the video's caption indicates that Arat and his father want him to become the best football player in the world.
Originally, he was mistaken to be a girl due to his long locks and is reminiscent of a former Ajax prodigy Sonny Pike. The English man was also had similar goldilocks but didn't reach his promised expectation and quit football at a very early age. Arat and his father need to be careful with his development and not fall for the modern money-making schemes which prey upon on this sport; hopefully, he goes on to fulfil his dreams in the near foreseeable future.