Tousif Sadman Turja, An Artist and Model, was born on March 8, 2008 in Dhaka. Although his village home is in Satkhira . Turja was born in Dhaka due to his parents' stay in Dhaka and living in Dhaka. His Father Ashikur Rahman Akash was a teacher by profession and mother Roksana Akter is a house wife.
There are so many talented Child actor and actress in Bangladesh. Tousif Sadman Turja  is one of them. He is the 1st child of his parents. He had an younger sister named Fatema Ferdous Title. Turja's  grandparents house is at Satkhira .
Education and others:
Tousif Sadman Turja now studied in class Nine at Motijheel Model School & College. Beside acting and modelling, Turja always a good student as well as he is the topper of his class. Turja learned reciting and presentation, acting, Guitar and dance at Bangladesh Shishu Academy, Dhaka.
Two years ago Tousif Sadman Turja got admitted in Karate class at Bangladesh Karate Federation.He is a all-rounder boy who is expert in many things like, Swimming, riding bicycle,Motor cycle. Cycling is one of his favourite things. Sometimes he cooked various kind of food and Making game. Turja trying to learn new things in every day life. He liked Travelling best.
Career and Activities: 
Tousif Sadman Turja came in Film and media at the year 2016 when he was in class Four  with his best drama serial TIRIGIRI TOKKA through Duranto TV. Since then he called up for TVC and his first work as a model in a TVC was MOJO  with Popcorn Production by Radoan Rony and then he never stopped. Again and again he sign up for different type of  TVC, OVC, AVC&Film. Turja even act in the TVC of Anchor Milk, Robi, Ispahani Mirzapore Tea, King Brand Cement,UNICEF and so on…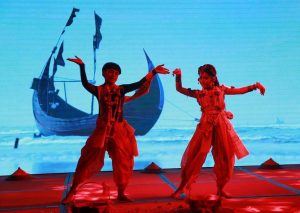 Among the child artist Tousif Sadman Turja is also a good dancer. He went to perform dance at Malaysia in 2016, Turkey in 2017, India in 2018 and again India in 2019 on behalf of Bangladesh Shishu Academy. It was One of the best experiences of his life. He also perform dance several time in the program of Prime Minister and President. He perform dance all of the largest stage and venue like Bangobondhu International Conventional Centre, Army Golf Club,Osmani Milonaiton, Shilpokola Academy, Bangla Academy, Shishu Academy etc.in Bangladesh.
Beside this BTV, NTV, ATN Bangla, SATV, Baishakhi TV, Bangla TV, (TRT-Turkey)etc. channel has broadcast his Live dance and recorded dance in several time.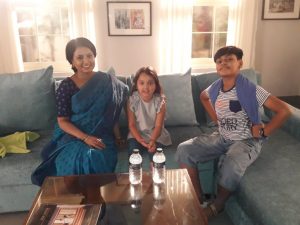 Tanvir Mokkammel  is one of the prominent Film director in Bangladesh cast Turja for government-sponsored film"Rupsha Nodir Banke". Turja always enjoy his work and he loves to  take challenge.
One of his famous TVC is "Anchor Milk" which is directed by Rony Bhoumic on behalf of Toaster production house.
This TVC was a challenging work in his life because the shooting time was winter season and the area of shooting was Dhamrai and Uttara. Not only that he had to bath 31 times with cold water by artificial stream all day long.Turja said that it was an amazing experience in my life.
Turja's the most notable and popular drama serial  is "TIRIGIRI TOKKA" with the prominent director Touhid Khan Biplob and Shahadat Hossain Sujon of "Dbhoni Chitra Ltd.". Turja said that "It was also a challenging work because the character of that drama was a ROBOT. It came from another satellite. The movement and dialogue of the whole serial was Robotic. The great experience is that peoples specially children known to me as a Robot named TIRIGIRI TOKKA all over the county and foreign country. I think it is a great achievement for me".
Some days later Turja took part of "Mighty Chips"Photoshoot. It was broadcast all the electric media and Print Media.
Description of Tousif Sadman Turja's  Movie, Drama and TVC & OVC: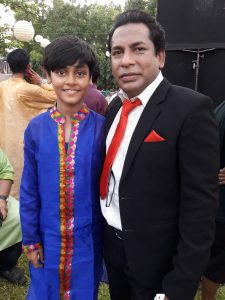 TVC/OVC:
"MOJO" by Redoan Rony(Popcorn Production).
"Anchor Milk" by Rony Bhoumik(Toaster Production).
"Anirban" by Tanveer Hassan(Applebox Films).
"Mighty Chips" by Raka Noshin Nower(Applebox Films).
"Domex Toilet Cleaner" by Piplu R Khan(Applebox Films).
"Technology" by Shohel Hossain Shohag(Montageviz Production).
"King Brand Cement" by Dhrubo Hasan(Outcaste Films).
"COVID-19 Awareness"by Mohammad Shohag(Colour Eye Films).
"Ispahani Mirzapour Tea" by Morshed Hasan(FilmsFactory).
"COVID-19 Awareness"by Jewel Sharif(BTV).
"Robi"( Run Out Production).
Drama:
"Tirigiri Tokka"(130 episode)by Touhid Khan Biplob and Shahadat Hossain Sujon(Dbhoni Chitra Ltd.).
"Off Ja" by T.I. Shaheen(Drama Vision Production).
"Dour" by Kamal Uddin(BTV).
"Rail Gari" by Himel Ishaq(BTV).
"Saaj Bati" by Jewel Sharif(BTV).
"Bondhutan" by Atindro Kanti Oju(Matree Chaya Production).
"Biyer Dawat Roilo" by Redoan Rony(Popcorn Production).
"Ku Haque" by Asis Kumar Roy(The Maker Production).
"Chotoder Prithibi" by Liton Odhikari Rintu(ATN Bangla).
Cinema:
"Rupsha Nodir Banke" by Tanvir Mokkammel(Kino-eye films).
"Hridita" by M.N. Ispahani Arif Jahan(One Frame Production).
"Abbas" by Saif Chandon(Dhaka Movies).
"Dahokal" by Dhrubo Hasan(Outcaste Films).
Beside this another two movies shooting will be start very recently.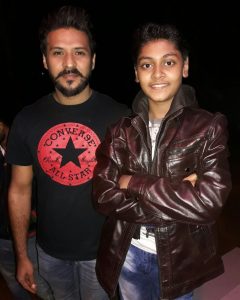 Another Information:
Favorite colour:- Blue.
Favorite food:- Kacci Birani & Cheese.
Favorite movie:- Daru Chini Dip, Ainabazi, Boss Giri, Chutir Ghanta, War & Avenger Series.
Favourite places:- Cox's Bazar, Shimla, Agra, Hollywood Hills.
Favourite person: Mother.
Favourite car: Lamborgini Sian, RollRoyce.
Favourite game: Football.
Recently he completed his role in the movie named "Hridita" by Famous Director"M.N.lspahani Arif Jahan"  based on the story of prominent writer "Anisul Haque".He belongs to have a YouTube channel  "TTV Multimedia". At the end of the day Turja always doing his best in education and he dreamed to be a good Chartered Accountant. Beside this he would love to be an actor too. He has another goal to be a Minister in Bangladesh and lead our country.
Recognized in Print Media:
The Daily Kaker Kontho, The Daily Ittefaq, The Daily Prothom Alo, The Daily Bangladesh Protidin,The Daily Sangbad, The Daily Alokito Bangladesh, The Daily Din Protidin and many others newspaper has published the news my media and film related workas child actor and dancer.