Ayaz Mahmud is one of the youngest Bangladeshi Child Model and Actor, Student of KG at St. Jacob's School in the capital. You will be surprised to hear that Ayaz has been working since he was just one year old. Ayaz is the model of advertisement. Recently, the shooting of Robi's TV advertisement has ended.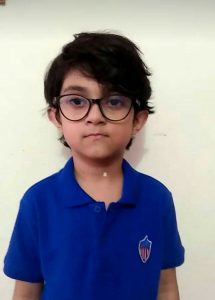 Ayaz has done about 32 works including TVC, OVC photoshoot. Notable among these are One Bank, Bashundhara Cement, United Hospital, Symphony H400, Merrill Baby Lawson Special Offer, Diploma Milk, Pran Instant Frozen Food, G Gas, Science Box, BRAC Awareness Work, Olympic Oifer, Pran Group's Refrigerator Special Offer, Pran Group's Eid Happy Bazaar, Part 1 and Part 2. On the occasion of Father's Day, Miniso also did a work in Bangladesh in 2019. Ayaz has been the model in the advertisement of Bashundhara Atta Maida Billboard.
Ayaz started modeling when she was just one year old. Through the advertisement of Neocare Baby Diapers. The shooting is at Coke. Ayaz was enjoying the beginning of the shooting. But in the scorching heat, the situation worsened and Vision cried. Although it was very difficult to shoot, the sequence of her crying was captured on camera. Do you know why? Kids are not comfortable in wet diapers for the scene. No work has been done since then.
Ayaz Mahmud shared his funny experience – people liked the advertisement of Emeryl Baby Lawson very much. Seeing that, many people used to make fun of me and tell me to sing .. No, you will not laugh. At that time my teeth fell out due to insects. So everyone was joking. But sometimes I was ashamed of the vision.
Ayaz says- Meryl Baby Lawson's Sabrina Irene director Big Boss Aunt was a little scared while working. But now I am not afraid of the Big Boss. Ha ha.
Ayaz has just recovered from typhoid while working on a Symphony H400 ad, but according to him, it is normal for him to be tired, but there is no way to understand him at all. He has to wait a long time before the start of the shooting, all of which he spends through restlessness. Then when his shorts start and he is told to sleep with his eyes closed in front of the light camera, he really falls asleep and then falls into a deep sleep. Director Tito then took a break from shooting and was allowed to sleep. Shoot at the end of sleep.
Apart from acting as a model, Ayaz likes to play games on tabs, watch cartoons and watch ghost movies. I also like to chat with my dear friends on video calls. She likes to make new friends. Ayaz is always guided and inspired by his mother.
Ayaz says- I like acting. Because many call me cute. Many people like to listen to me. So many people will know me, will know me, will be my fan by looking at my work, thinking about all these makes me feel good to work, encouragement comes. I will go to America and advertise as a Bangladeshi model InshaAllah.