There are so many talented Child actor and actress in Bangladesh. Simrin Lubaba is one of them. She was born on 16th August 2010. Her mother Zahida Islam and father Shafiul Azam. Simrin Lubaba is the 2nd child of her parents. she'd an elder brother. His name is Sadman Ehsas. Simrin Lubaba lives in Dhaka, Bangladesh with her family.
Education and Others:
SimrinLubaba studies in BAF Shaheen English Medium School (SEMS). She participated in an annual sports event and achieved Gold &Runner up trophy in the school. Her aim in life is to be a doctor.
Career and Achievements:
She started her TV career when she was only 4 years old. First, acting was in Bata shoes ad. 'Then she participated in a TV ad of Apex, Bay, Zeils, RFL Jug, PRAN jems, PRAN sauces, SAMSUNG, Chopstick noddles, Yellow, Best Electronics, Lifebouy pocket handwash, Lifeboy ad with Shakib Al Hasan, Gamebox, Magic Island, Bashundhara LP Gas, VIM washing powder, women's day, Mother's day, farm-fresh milk, Rupchanda oil.
She also acted in 'Rickshaw Girl' directed by Amitav Reza. Finalization in process for acting in film on Bangabandhu; Shahidullah Kaiser and a short film 'Kathal'.
SimrinLubaba is a socially conscious child and worked on COVID-19, Coronavirus in social media including a remarkable coverage on Channel I.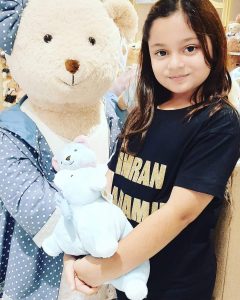 Simrin's grandfather is the prominent Actor Abdul Quader and grandmother is Actress Khairun Quader who always
inspired and Guided her in doing realistic acting. Simrin is very popular for her excellent behavior to all. She is also practicing music and wants to be a famous singer. Recently, an article on Simrin Lubaba was published in Ittefaq, a popular daily newspaper in Bangladesh.
At the same time, Simrin Lubaba has many talents. She can speak three languages, especially Bengali as her mother tongue. She is equally proficient in English as she reads in English Medium School. Apart from this, as a third language, she has mastered Hindi very well.