Seen from a distance, The boy looks like a real harry potter. Round glasses on eyes, sweet smile on face. We are talking about a little prince whose name is Azaan. Full name Muhammed Tawhid Hossain Azaan. Parents and friends, of course, always like to call him by the name Azaan. Sometimes call him Azu. Teachers call him Tawhid in school. Whatever the name, Azaan is in everyone's heart. At present, Muhammed Tawhid Hossain Azaan is one of the prominent child artist, models in Bangladesh has gained recognition by showing his talent. Azaan became a model in Apex ads. He becomes popular when his uncle posts some pictures on social media.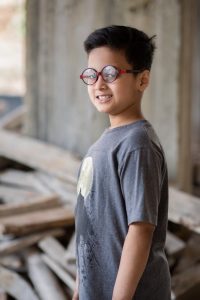 Born and raised:
Muhammed Tawhid Hossain Azaan was born on 14th March 2013 in Chittagong. His Father Muhammed Shahadat Hossain is a banker by profession and his mother Munmun Hossain is a homemaker. In addition to his parents, Azaan has two sisters and he is the elder son of his family. The younger sister name is Amayra Zoha Hossain and Afiah Zaki Hossain.Azaan is currently studying in the fourth grade of Cantonment English School and College, Chittagong. Currently, he lives in Chittagong city.
Other information:
Name: Muhammed Tawhid Hossain Azaan.
Nickname: Azaan.
Father: Muhammed Shahadat Hossain
Mother: Munmun Hossain
Sisters: Amayra Zoha Hossain, Afiah Zaki Hossain.
Born on 14th March 2013
Height: 4 feet 2 inches
School: Cantonment English School and College, Chittagong.
Class: lll
Extracurricular activities:
Azaan wants to develop himself as a successful actor and model. Since childhood, he is a very friendly and energetic boy. He loves to make friends. In his free time, he watches YouTube blogs and wishes to be a YouTuber also. Apart from this, he loves to dance, sing, play football and draw pictures.
The story behind the start of modeling:
One day Azaan's uncle Muhammed Imran Hossain owner of Imran H. photography who himself a renowned photographer posted some photographs of Azaan on his Facebook page, in few days Imran started to have massages and calls for Azaan modeling. However, his parents do not allow him to do modeling at first, but when one of Imran's close friends persists, they can't say no to him. That's how Azaan's modeling career started.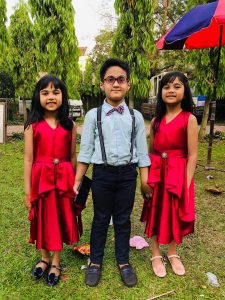 Future Plans:
Azaan parent wants him to be a good human being as the most popular prodigy child Faatiha Aayat said in her speech. They wish one-day Azaan will become a successful man by his profession and stand by poor and needy people.
Favorite color:- Sky blue
Favorite food:- Broast, fries, chocolates and ice cream.
Favorite movie:- Finding Nemo, Secret life of pets. Ralph Breaks the Internet
Favorite places:- Sea beach and hill
Favorite person: Mother
Azaan is very friendly, he is not afraid in front of the camera. From the very beginning, he got a lot of interest in modeling and everyone appreciated it. Azaan wants to be regular in modeling. Other child artists and their families love Azan very much. Just as Twin Sister Lariana Larissa enjoyed modeling with Azan, so did Turya and Mohana. Azan always tries to do good deeds by watching and listening and as a result many times it is seen that the number of Azan works is proportionally less but his works are excellent. Azan wants to work on a big platform. He would be happy to work with a great director like Farooqi or Amitabh Raza.
TVC/OVC: