Sadika Maliha Shokh is a Bangladeshi model and child television actress and Dancer born on December 8,2011 at her grand parents house in Khulna. Shokh is also known to have acted in various television commercials. Shokh, the child actress, is a Model and pursues her education at the Willes Little Flower School and College.Her nickname is Shokh. Shokh is one of the youngest child artist of Bangladesh.
She has gained popularity in Television Drama, Advertisements, Photo shoots and other Modeling Sectors. In addition to modeling and acting, she has a variety of talents that one constantly bringing her more success.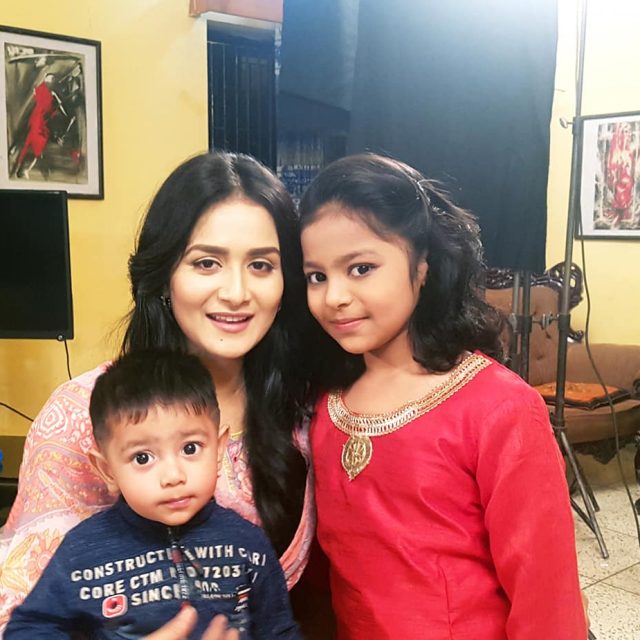 Born and Brought up:
Shokh was born on 8th December, 2011 in Boyra of Khulna at Shona Danga Thana That is she was born at her grandparents house. Family Shokh currently lives with her family in polton at Dhaka. In her family She have her mom,dad and her little brother. Her dad's name is Abu Sayem. He is a banker. And her mom name is Sabina Monoara Sathi. She is house-maker.
Education and others:
Nine year old Shokh studies in 3rd grade at Will's Little Flower School.Shokh is impossibly a favourite student of her school teachers. She did participated in various school competitions and won first prizes.
Favourites and Hobbies:
Shokh's favourite colour is Red.Her favourite food is Biriyani also favourite flower is Hasna Hena. She utilizes her leisure time for her work the most. As dancing is most important to her. So, she practices dancing at her free time. Besides this she loves to sing, do poetry, reading books, watching TV, helping her mom in hands also playing with her little brother.
Acting and Modeling Career:
The little Princess named Shokh entered the media holding her mom's hand. And the most inspiring people of her life is her mom and her grandfather. She made her media Debut in 2016 on BTV through solo Folk Dance in " Cholo Cholo Shokhi" in 2017. From very earlier she used to perform in stages as well. Her first TV work as an artist and model for advertisement was started at 2018.
She did quite good number of serial dramas like in " Vokta Odhikar " by Kamrul Hasan Sujon at Ekushey Television, " Mukhosh Adharer Golpo"by Ripon Forazi at Channel 24,Mujib shotoborsho.
https://www.youtube.com/watch?v=TNDEdd1a91g
Till now her last serial drama is "DB" by Jahangir Alam sumon at ATN Bangla. Beside this she has done various advertises as well. She expects to work something more like this. As a Future plan, She wanted to be with the media till her last.
She wants to work for the industry as long as she could. Also desires to be a dance teacher and also an University professor.
Written by: Nafisa Tabassum Juena