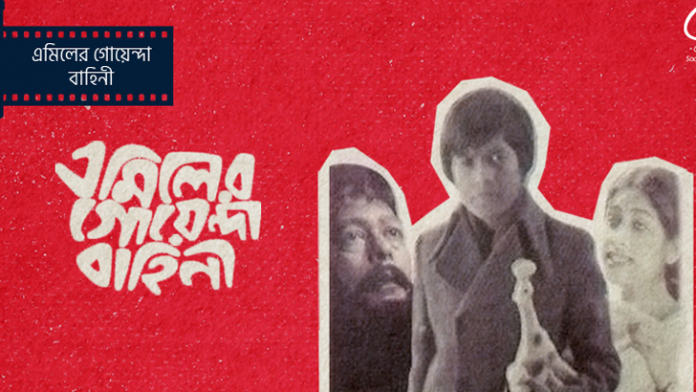 The first children's film of independent Bangladesh 'Emil's Detective Force or Emiler Goenda Bahini' was released in 1970.
However, the most talked about topic was that the producer of this film, Badal Rahman, came from Pune, India with training in film and started making the film. He also got government grant. Although the main story of the film 'Emil's Detective Force or Emiler Goenda Bahini' is by Erich Kastner, the screenplay was written by Badal Rahman himself.
Even after foreign stories, the social reality of one's own country was presented in an extraordinary way. The story of the film was also changed drastically. The main character is Emil. Emil himself, who played a great role as a petty detective, is now a mystery. He was not seen again after his debut film. Where is Emil, the child who starred in the country's first children's film? Are you still interested in espionage like the screen? Or everything has changed in the opening! Such questions are on the minds of many viewers. The real name of that notorious detective named Emil is Riaz Shahid.
He currently resides in Jahar Bahru, Malaysia. Prior to that, he worked as Head of IT at the American International School in Dhaka. Malaysia came in 2016. There, too, he is working as an IT director at St. Mary's Forest City International School, an American school.
Bangladesh's first government-funded children's film 'Emil's Detective Force'. The whole story of being involved in this film was great. Film director Badal Rahman went to study at Pune Film Institute on a scholarship during 63/64. Many others went with him. There, Badal Rahman returned to the country in 6/7 with a diploma in film editing.
Salahuddin Zaki was also with him. Both received government grants to make the film. Badal Rahman got for 'Emil's Intelligence' and Saladin got Zaki for 'Ghuddi'. Both are very nice stories. At that time Riaz Shahid i.e. today's Khude Emil is very small. But he knew then and there that these two pictures had received grants.
196 Riaz Shahid is studying in Udayan School, Class Six. Their family had a connection with Badal Rahman. Riaz Shahid, that is, Emil's aunt, often came to the house to chat. Suddenly he called one day and said, "When will your final exam end?"
Riaz Shahid told him that the exam would end at the end of November. Even then he did not know anything about the film. Then one day he sat down and said, "I'm making a movie about Emil's intelligence." I want you to play the main character. "
Before that, Riaz Shahid had no experience of standing in front of Emil's camera. Although his family was in the cultural sphere. The late Alamgir Kabir became his uncle. This means that many of their families had and still have a lot of contact in this area. But he will make a movie himself, he will stand in front of the camera – all this did not come to his mind.
But after saying that he was very surprised. What aroused the most curiosity was when Badal Rahman said, "We will shoot in Khulna."
If you watch the movie, you will know that Emil is the son of Khulna. He was in Khulna till he came to Dhaka. Going there was like an adventure then. Badal Rahman himself had a great time in Khulna as a child. In the city he attended St. Joseph's School. Also shown in the movie, Emil is a student of Khulna St. Joseph's School.
Emil's mother, Riaz Shahid's mother, was not unhappy after getting a chance in the movie. Was a little worried. However, there were not many problems. Everyone encouraged. Because, it is going to be the first children's film in independent Bangladesh. That was the big deal for them. Riaz Shahid did not understand any of this at that age. But he only knew that he would go to Khulna. The shooting took place in Khulna for 15 days.

The film was released in 1970. Shooting started in 8. Then the middle was off. Then it started again in 7. However, most of the shooting took place in '69. Most of the shootings took place from January to July of that year. For example, inside the Intercontinental, chasing a thief, Sakura is there. Then it took until January 1970 to finish everything including dubbing and editing. The movie was released in September 1970.
Money is a big issue. The shooting of the movie was stopped for about 6-7 months due to lack of funds. Badal Rahman received a grant of three lakh rupees or a little more for the production of this movie. Then it had to be made entirely from Badal Rahman's initiative. It is true that he got the grant, but when it comes to making a picture, he has to do it with special technical arrangements like mind, with good craftsmen, but it does not become with that money.
For this, donations were collected from different places. He has even spent a large part of his own pocket. Another issue was that no crew was paid for this film. Except the revered Golam Mostafa Saheb, none of the actors got paid. Riaz Shahid and other children including Emil did not understand what was happening. Among others, the late Anwar Hossain, a friend of Badal Rahman and a cinematographer, did not take any remuneration. But he was an internationally acclaimed cinematographer at the time. He was also working on 'Surya Dighal Bari' at that time.
The child Emil was touching the teenager while shooting. Looking at the movie, it can be seen that there is a difference between Emil from Khulna and Emil from Dhaka. Emil's voice changed. It started at the end of class six. Then when the shooting stopped and started again, it was in the middle of class seven. Emile's voice was changing at that time. The height also increased a little. Critics, however, did not notice much.
There was no feeling in the film that little Emil had acted in. The main thing was adventure. They are kids, everyone is the same age. This is the first plot in Bangladesh for children. Still the only plot of that movie was for kids.
When the film was released, Emil lived in the cantonment with his family. At that time in 1970 flood waters entered many places in Dhaka city. Water also flooded the houses of Riaz Shahid and Emils. So at that time they were at his aunt's house in Maghbazar for some time. Where Badal Rahman used to come. When the movie came to the Cantonment Cinema Hall, many people in the area did not know that the boy who played the role of Emil was in the Cantonment itself. After watching the movie, everyone in the neighborhood was surprised to see it. Riaz Shahid had a lot of fun hearing this.
The role of Emil was thrilling to him that he had acted in a movie, showing it in a cinema hall. On the day it was released, I think Riaz Shahid was in class nine. Bangla teacher  Jamila suddenly came to the class and said, 'Today, the first children's film of Bangladesh is being released on Friday. Here our student Riaz has played the lead role. This is what we will celebrate. Congratulate him all. 'Everyone applauded then.
Another thing is that many of the people who were with Emil in different roles in 'Emil's Intelligence Force' are students of Udayan. Such as- Shiplu, then Imran. Imran is his classmate. That was the big news of the school at that time. When he walked on the street, everyone would show him that Emil was going. At first I was very ashamed to get everyone's attention. Many people would ask outside, isn't this Emil? He was ashamed and said, yes, I am Emil.
That little Emile has grown up now. His children know that he has acted in a historical film of Bangladesh. A few years ago he went to Canada with his daughter to be admitted to university. There are also many friends of the big Emil. After going to Canada, everyone was invited to a friend's house. There, a friend said the matter in front of everyone in the middle of the invitation.
The small actors were very happy to make the film because Badal Rahman left everything to the child artists. For this reason, they did not understand that the small artists are performing. Everything was very natural. He never told others who were there, such as Golam Mostafa, Sara Zaker, Benu Zaman, what to do. I mean, he didn't force anything. He explained the situation and gave a small idea of ​​the character. As a result, the film is well portrayed.
There are many dialogues in the film that were not in the script. All this has been improved on the spot. Badal Rahman never forced a child to come out naturally in terms of how he speaks and behaves.
Another thing is that about 10-15 children have worked. Managing them is not a trivial matter. He never bothered. The child artists were all the same age. It could be seen during the shooting that everyone started playing after going to the spot. Before shooting any scene, Badal Rahman called, "Come on, all of you." Emils would then run and shoot. At the end of the shoot, he would run again and go to play. All the children were in the whole commotion. Had a wonderful time.
The audience still wonders what would have happened if the second episode of Emil's intelligence had taken place? I mean, the Emils have all grown up now. Now it wouldn't be bad if there was a movie about their intelligence work. An Emil has taken place in the hearts of the audience with his performance. That's why he is in people's hearts even when he is away from movies. Even after acting in many films, some people cannot take place in the hearts of the people, but by acting in only one film, he has been in the hearts of people for ages. Emil's intelligence is still intact.