Murtaja Baseer is an example for artists.
Murtaja Baseer is one of the brightest stars of Bangladeshi art. The legendary artist passed away yesterday after being infected with coronavirus. He breathed his last at 9:10 am yesterday while undergoing treatment at Evercare Hospital in the capital. According to the artists, a chapter came to an end with his departure.

Murtaja Baseer was at the forefront of the Bayanna language movement, the liberation war of 1971 and the anti-authoritarian movement and protests of the nineties. He took an active part in the language movement of 21 February 1952. He drew the picture on Linocote in 1952 under the title 'Bloody 21st' on February 21.
According to the Asiatic Society, 'Bloody 21st' is considered to be the first painting on the language movement. He was one of the leaders in the 'Swadhinata' procession organized by the Council of Arts and Craftsmen in Bangladesh from Shaheed Minar to Bahadur Shah Park on March 17, 1971.
'Walls', 'Martyr Title', 'Kalema Taiyeba', 'Fan' are notable series painted by artist Murtaja Baseer. He is the promoter of an art form called 'Abstract Reality'. He has also put his signature of individuality in the East-West match in figurative work. Murtaja Baseer received the Swadhinata Padak in 2019, the Ekushey Padak in 1970 and the Shilpakala Academy Medal in 1985 for his contribution to painting.
He wrote the story and screenplay for the 1973 Urdu film Karoyan. He was the screenwriter, art director and chief assistant director of Humayun Kabir's 'Rivers and Women' in 1984. In 1975, he was the art director of the Urdu film Kayase Kahu.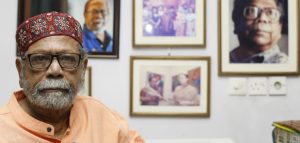 Among the story books published by Murtaja Baseer are 'Glass Bird Song', 'Story Complete'. The books of poetry include 'Trasarenu', 'Tomakei Shudhu', 'Eso Phire Anusuya', 'Saday Eliji'. Novels 'Ultramarine', 'Four Evenings with Mita', 'Amitrakshara'. Selected essays include 'Tangible and Abstract', 'My Life and Others'. 'The Abyssinian Sultan of Bengal and the Society of the Time in the Light of Coins and Inscriptions' is a research work by the artist.
He also published a number of research papers on pre-Mughal coins in the Journal of the Newmastic Society of India, University of Benares, India. Legendary artist Murtaja Baseer's death has been commemorated by his close and dear ones.
His death is a great loss for us
Alok Roy, Professor (Retd.), Department of Fine Arts, University of Chittagong
I was very close to Murtaja Baseer. As an artist he was extraordinary. Mixing with him, it could be understood that he had a child-like mind. Impossibly arrogant people. He used to tell very good stories. He was interested in various subjects. He was in Italy. At first he worked in cubic style. His figures were linear. Later he started doing abstract work. However, it cannot be called abstract. People have done things that are not there.
He did some work by looking at the plaster on the walls that had fallen off. The walls have done the series. It works very exceptionally. He used to say, 'I can't draw pictures from the mind, I need to see something.' He saw stones and drew some pictures called epitaphs. These are his most important works. He died in adulthood. Yet his death is a great loss for us.

A chapter ended with his departure
Gautam Chakraborty, artist and gallery co-director
I got him very close. He was at the opening of Kaya Gallery in 2004. I did my first exhibition in 1992. He was still present. He inaugurated it. She has been in daily contact with him since 2004. In 2006 I had the opportunity to do my first exhibition at Gallery Kaya. Since then he has done all his exhibitions in Gallery Kaya. About four exhibitions.
Murtaja Baseer was the last among the artists of this generation including Qayyum Chowdhury and Jahangir. A chapter ended with his departure. Murtaja Baseer will be 6 years old tomorrow. He left before her. He always told me, 'I want to live after my death.' That is through work. He left a huge treasure trove of work.
At the beginning of his life, one of his most famous works was 'Bloody 21st'. He was also present in the procession on 21 February 1952. Protests are not just political and social. It has a cultural background. He was in procession, the bullet could have hit his body too. I would say this feeling, this consciousness was his driving force.
The deep connection between the artists and the cultural workers and the emotional pastures of the artists and cultural workers was one of the great inspirations behind the events of 1971. And these are the things that have come into their pictures, writings, etc.
Murtaza Bashir is an example for artists
Wakilur Rahman, artist and curator of Kalakendra
Murtaja Baseer is one of the art personalities. We have seen many series directly in his drawing. He was extremely social. In various fields, especially literary practice, he had close contact with writers. He also studied literature. The expression of his thoughts could be found in the writing. At first he was involved with the film. He later wrote novels. He is an ideal artist, who can be followed. He had many hobbies. As he collected coins from different countries, he had a lot of stamps.
All in all, he had a very colorful life, and he was very tidy. He has arranged all his practices very precisely. So the next generation