Tammat bin Khair A wonderful teenager who travels around the country on foot.
The 17-year-old has established himself as one of the country's top athletes. This time we talked about the various achievements that have been added to the bag, including the record of 64 district trips by bicycle or walking from Teknaf to Tentulia.
Tammat was then 12 years old. On the screen of BTV, etc., he saw an old man traveling 64 districts on a bicycle. From then on, the intoxication of setting such a record came to Tammat's head. One day he took a deposit from his father and asked for a bicycle. Baba Neyamat Ali, a retired police officer, did not buy a bicycle due to his studies. Due to which, the dream of the seventh grade student Tammat remains. Finally, in 2016, he saved his tuition money and bought a bicycle.
Tammat Bill Khair entered the world of cycling with a bicycle through a cycling community group in the port city. He is currently graduating from Chittagong Government City College with a degree in Mathematics. From April 9, 2017 to May 3, 2016, this teenager from Chittagong set a record of traveling by bicycle for the first time in 64 districts of the country in just 24 days. He did not stop there. He has crossed the borders of the country and participated in various international competitions and snatched the highest victory. And more than 50 honors of those victories are hanging on the yellow wall of Tammat's house as a witness to all his successes.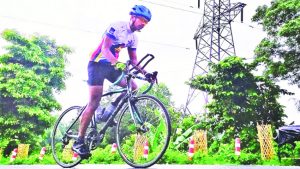 Tammat said that during his first trip to 64 districts, he left at midnight with his bicycle and travel equipment without informing anyone at home. Because Tammat's family did not consent to these sports. Then the whole family became selfish in the dream journey of their youngest child due to one skyrocketing success after another. In fact, the most achievable thing is that I now have a festive atmosphere in my home before and after participating in various competitions. My family is proud and happy with this year's 64 district tour. He also said that the whole matter is instructive.
Most recently, from October 8 to November 25, he traveled to 64 districts in just 15 days, breaking his own record. For Tammat's overall support, he had a support team on a bike during the ride in 64 districts. He also said that the cycling rides were broadcast live on his own page called Tammat Bill Khayer. Describing his experience of 64 district rides, Tammat said, "I have been able to come up with this much inspired by the athletics." And the most amazing thing is that when I was on the 64 District Ride, people from different districts met me there. The guest also did. Many times they used to provide me accommodation in their own homes. All in all, the whole countrymen enjoyed the matter very much.
The last land in the south of the country – about 1000 km from Shahpari Island in Teknaf, the last land in the north – Tentulia's Banglabandha Zero Point (from Teknaf to Tentulia) was reached in just 24 days on foot. With such success, he presented himself in a unique way among the whole country. Tammat did not limit himself to cycling or setting various records. He has reached every district with a message of awareness on every trip.
He is working to create awareness by installing emergency sanitary napkin boxes in every school of the country through the campaign of cycling to prevent child marriage and travel to 64 districts in 2019, including encouraging every person to walk 2 km regularly from Teknaf to Tentulia in 2016. His goal now is Ironman! After countless achievements and successes of record boy Tammat, he has decided to participate in the International Ironman International Competition in Malaysia in 2020.