Creative Talent Hunt: A Dream for Millions . If you have been following my posts for a while, you might have noticed the notably prevalent effects of the prestigious competition, the Creative Talent Hunt. It has been a dream for many students (and of their parents too, in many cases!) across the nation. Who would not like being bestowed such a great honour upon?!
Creative Talent Hunt: A Dream for Millions.There's hardly any student across Bangladesh who haven't yet heard about the competition. In a definitive approach, Creative Talent Hunt is a competition about finding out rare talents across the country. The competition is directly affiliated to the Government of Bangladesh, and is therefore conducted by the Ministry of Education (MoE).
Creative Talent Hunt is an initiative by the Government of Bangladesh to find great talents from all over the country. The competition was first launched in 2013. The competition is held in 3 categories and 4 subjects. The national winners get BDT 1,00,000 from the Prime Minister of Bangladesh.The winners are also rewarded with a foreign tour sponsored by the Education Ministry of Bangladesh.
The program has been in operation since 2013. In March days, this occasion becomes a sensation and root-level selections are usually underway from early March afterwards. Numerous steps of knowledge-based and skill-based selections take place along the length of the month. There would be four subjects to compete in, namely: (a) Language and Literature, (b) Science, (c) Mathematics and Computer, and (d) Bangladesh Studies and the Liberation War; in three class-based categories: (A) classes VI-VIII, (B) classes IX-X and (C) college.
The competitors in the Language and Literature are put through three tests: a written test (an essay), public speech assessment, and serial storytelling. For Science, things are just as tough: a scientific essay, an MCQ test, and even more dangerously (!), your own science project! (I will be back with you in another article elaborately for the subject). In Mathematics and Computer, you get to attend a written math test, attend the viva, and get to solve some computer problems. For Bangladesh Studies and the Liberation war, it is just what it says. You get to come through a written test, MCQs and a viva.
There are numerous steps in the process. First you participate in the District level. If you outsmart everyone else in your subject and category, you are into the Divisional s. You have to be on the top again to be a proud contender for the National level competition, representing your Division. This is where things start to get tough, if it didn't earlier. The National level competitions here are the most challenging, and quite interesting too, as the environment is always very heavy with fierce competition.
It's often a tough time for the judges differentiating the participants; none is anything less than the other. But remember, ONLY ONE PERSON IN EACH SUBJECT AND CATEGORY WINS. He is undoubtedly the one who is different. There are increasing amounts of awards for each level.
It's always a prestigious achievement to win the Nationals. It's indeed like observing a dream come true. A special honour is bestowed upon the twelve winners, that is, "National Talent". If you're among them, you are awarded with a handsome sum of BDT 1,00,000 by the honourable Prime Minister herself in a grand ceremony, in a nice blazer!
You are also taken to a tour abroad where you work as an Ambassador of Education in that country. That is, you and your fellows visit schools in that country and exchange your opinions about education. It is also of lifetime recognition for you in your school or college.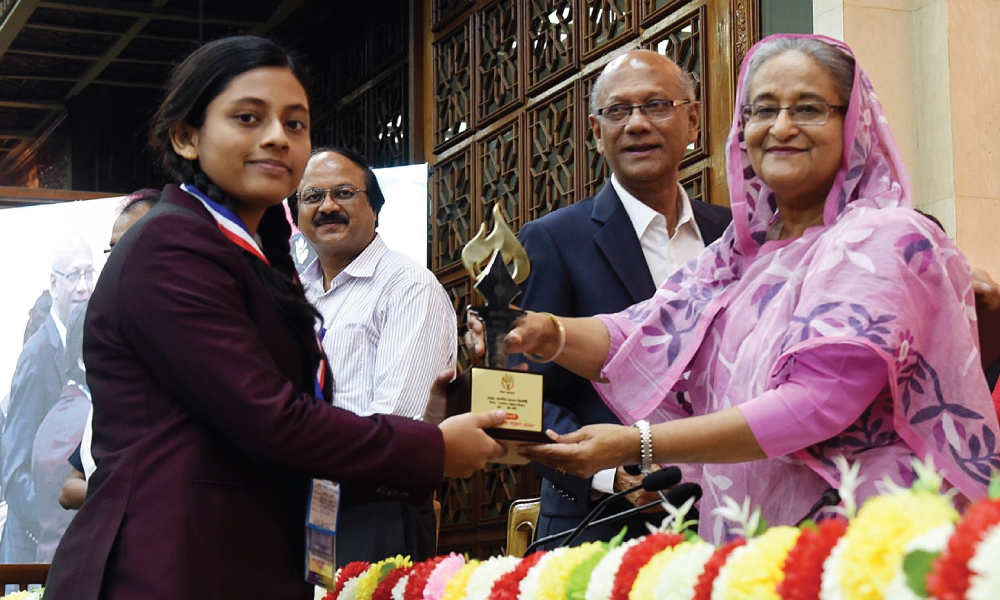 Now, what if you lose? Well, there is nothing called "loss" or "defeat" in this competition. It's about being on the top. If you fail to someone superior, learn from your experience and respect his achievement – it is unlikely that you'd fail again in the same stage next year you participate. But be sure to give your best whatever you may be in. If you ever unfortunately fall out of the National level competitions, never mind.
Every participant of the National rounds (that is, every winner of the Divisionals) is awarded in the same program with the National Talents. And Creative Talent Hunt should always be giving you plenty of inspiration.
Let's have a look at the winners. The names of their regions follow their names and their institutes.
2013
Language and Literature
Humayra Adiba, VIII, YWCA Girls' School, Dhaka.
Anika Bushra, X, Govt. P.N. Girls' High School, Rajshahi
Madhurima Saha, XI, Sunamganj Govt. College, Sylhet
Science
Bushra Adib, VIII, Nilphamari Govt. Girls' High School, Rangpur
Supantha Joy, X, Govt. Jubilee High School, Sylhet
Muhammad Azmain Iktidar, XI, Chittagong College, Chittagong
Mathematics and Computer
Tahnic Nur Samin, VIII, Chittagong Govt. High School
Bhuvan Dey, X, Rangamati Govt. High School, Chittagong
Azwad Anjum, XI, Govt. M.C. College, Sylhet
Bangladesh Studies
Afia Anzum Jaman, VIII, Kushtia Govt. Girls' High School, Khulna
Mosarrat Mehjabin, IX, Govt. P.N. Girls' High School, Rajshahi
Abdul Basit, Amtali Degree College, Barisal
2014
Language and Literature
Siratal Mostakim Sraboni, VIII, RAJUK Uttara Model College, Dhaka
Abrar Promity Mollick, X, Narail Govt. Girls' High School, Khulna
Aditi Barua, XII, Holy Cross College, Dhaka
Science
Anika Tabassum, VIII, Holy Cross Girls' High School, Dhaka
Fahima Sultana, X, Jinjira Peer MD Pilot High School, Dhaka
Shahazadi Nowrin, XI, Fazilatunnesa Govt. Girls' College, Barisal
Mathematics and Computer
Puspita Biswas, VIII, KAFCO School and College, Chittagong
Jubayer Rahman Nirjhor, X, Annada Govt. High School, Brahmanbaria, Chittagong
Fahim Shahriar, XI, Notre Dame College, Dhaka
Bangladesh Studies
Al Muhit Muhtadi, VII, Pirganj Govt. High School, Rangpur
Afia Anzum Jaman, IX, Kushtia Govt. Girls' High School, Khulna
Sumaiya Islam, XII, Dhaka Cant. Girls' Public College, Dhaka
2015
Language and Literature
Ibnul Muhtadi Shah, VIII, The Flowers KG and High School, Moulvibazar, Sylhet
Shakil Reja Efti, X, Dinajpur Zilla School, Dinajpur
Anika Bushra, XI, Rajshahi College, Rajshahi
Science
Ishtiaq Mahmood Siyam, VIII, Govt. Pilot High School, Sylhet
Shadman Nasif, X, Khulna Zilla School, Khulna (That's me!)
Jayanta Paul, XI, Sunamganj Govt. College, Sunamganj
Mathematics and Computer
Rubaiyat Jalal, VIII, Rajshahi University School, Rajshahi
Tanjeem Azwad Zaman, X, Saint Joseph Higher Secondary School. Dhaka
Shakil Ahmed, XI, Nowapara College, Jessore, Khulna
Bangladesh Studies and the Liberation War
Sheikh Khatun e Jannat, VIII, B.K.G.C. Govt. Girls' High School, Sylhet
Ishmam Tasnim, X, Viqarunnisa Noon School and College, Dhaka
Raida Karim, XI, Holy Cross College, Dhaka
2016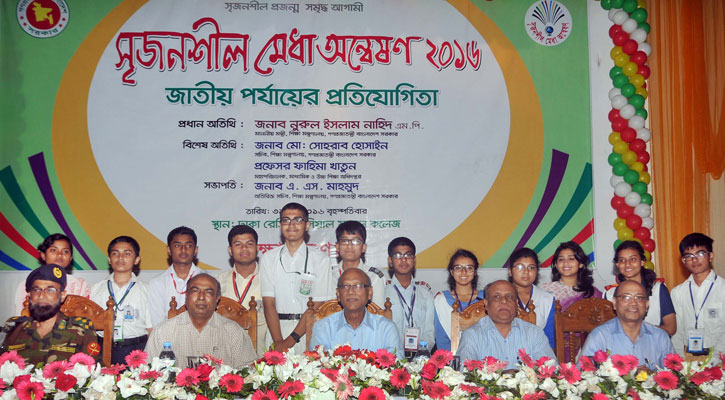 Language and Literature
Nahian Islam Inan, VIII, Mymensingh Zilla School, Mymensingh
Siratal Mostakim Sraboni, X, RAJUK Uttara Model College, Dhaka
Moumita Rahman, Mazida Khatun Govt. Girls' College, Lalmonirhat, Rangpur
Science
Md. Moklesur Rahman, VIII, Amena Baki Residential Model College, Dinajpur, Rangur.
Shatabdi Roy, IX, Joypurhat Govt. Girls' High School, Rajshahi
Mahiya Ahmed, XI, Govt. Azizul Haque College, Bogra, Rajshahi.
Mathematics and Computer
Shaswato Saha Roy, VIII, Rangpur Zilla School, Rangpur
Sourya Das, X, Comilla Zilla School, Chittagong
Sheikh Azizul Hakim, XI, Notre Dame College, Dhaka
Bangladesh Studies and the Liberation War
Motakabbir bin Motahar, VII, Annada Govt High School, Brahmanbaria, Chittagong
Nazmus Sakib, X, Comilla Zilla School, Chittagong
Oishwarya Saha, XI, Biyani Bazar Govt. College, Sylhet.
Now then, let's take a look on some obvious stats. There are only two legendary persons to win the CTH twice! They are the orators Anika Bushra from Rajshahi (CTH13 and CTH15), and Siratal Mostakim Sraboni from Dhaka (CTH14 and CTH16).
It's indeed an honour to be with them. Al Muhit Muhtadi from Rangpur (CTH14) and Motakabbir bin Motahar from Chittagong (CTH16) are the youngest to win CTH. Both of these prodigies made it to the top while only in class VII! Therefore you can see, class-based knowledge matters only a little.
If you are an eager competitor, here are a few things you could be benefitted from.
Be wise in your choice. Know your skills. Though the protocol permits your participation in three subjects at the most, it is often more desirable to be in only two. If you are really confident enough in your skills and knowledge in only one subject, then you can risk being in only one. Don't let the choices of your surroundings override your own.
Know the rules. If you have participated before, then you must have a clear idea about what happens here. For your convenience, the basics of the competition were stated earlier in the article. As said earlier, it's all about thorough assessment of raw knowledge and skills, and ONLY ONE contender is to make it unto the top each level. Hold your nerve.
Prepare, but take it easy. It's indeed impossible to remain cool even after knowing that you are in a competition with only the bests.  It's no doubt a challenge for your intellect. Many would feel the same pressure they feel the night before a board exam! That's definitely not the way. There's no use cramming here, it's all about your "talent", as the name readily suggests. Whatever you may prepare for, concentrate on building up your base knowledge. It would help you a lot in life, if not immediately in the competition. Rises an old question, "Are the textbooks suggested?" Textbooks can always be a simple way towards the basics of your subject, but your knowledge outside of your textbooks is the factor that will make you different. "Education is what you remember after you've forgotten what you learned in school." Beside textbooks, surf the web. Be familiar enough with Google and Wikipedia, and the like.
Be confident. Believe in your capabilities, especially when you are deep into the competition. No matter how good your preparations may be, even the slightest of lacks of confidence will seriously increase your chance of messing things up at the assessments. Things are much tougher when it comes to verbal contact. You can't afford a single mistake anywhere, or you let your competitor grab the competition. You can't afford a lack of confidence while performing the public speech assessments, explaining your science project, explaining math, or attending a "severe" viva. Try out some motivational books and quotes, try to listen to some motivational music or search the YouTube for some motivational videos before the exam night. (Scientifically, motivation triggers important biochemical changes to create hormones those induce confidence.)
Ethics. Quite a sensitive topic to talk about. Let's have a small example. Suppose, you've won a competition, and one of your "competitive" competitors is a bit furious. He goes on arguing that he deserves the victory and accuses you of cheating. He spreads rumours about your victory and also performs similar misconducts on social media.                        By now, you must be very angry with the guy above. Then, how do you deal with him? As you might have already guessed, there is only ONE solution that could possibly work. Yep, you CAN teach him a lesson by being successful again, and again, and again! Again, it is always very advisable to admire every aspect of a person's talent with due respect and honour, therefore it is very much hoped that a participant will NOT behave like the person mentioned.You can also check out the Wikipedia article about Creative Talent Hunt Good luck!
Written by: Shadman Nasif National Talent, 2015 IX-X, Science, (ex) Khulna Zilla School, Khulna
Written by: Shadman Nasif