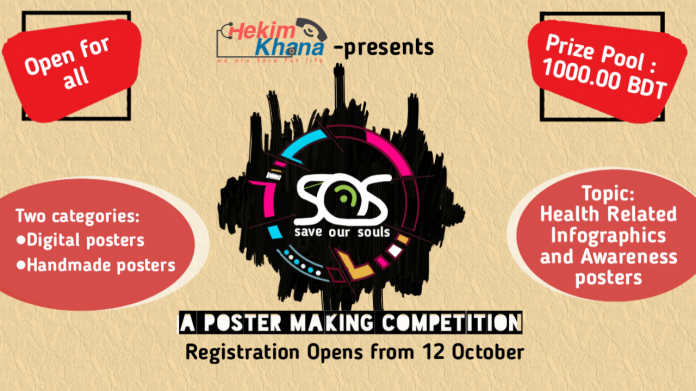 SOS (Save Our Souls): A Poster Making Competition
Health related Organization Hekimkhana has recently hosted their first online competition 'SOS (Save our souls): A poster making competition'. The purpose of this event is to find creative minds among the mass people and make them interested in presenting and sharing health-related knowledge.
Hekimkhana was founded with a noble purpose of providing standard health service to people irrespective of their socioeconomic status. Their target is to create a platform for healthcare where people will find doctor consultation, health tips (video, audio and writing format) and many more. Their work has been started via the Facebook page.
The competition is being held in two categories-
1)     Digital posters
2)     Handmade posters.
The competition is open for all. Participants are allowed to submit their posters both in Bangla and English or mixed. The topic should be about health-related infographic, awareness or campaign posters or any information related to health and well-being of humans. 70% marks of the competition will be carried from judges' remarks and 30% from public reactions.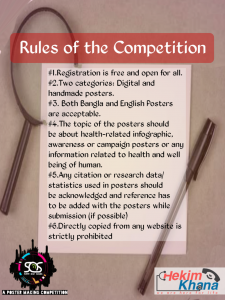 Hekimkhana is offering prize pool of about 1000 taka which includes
Ø  Exciting gifts
Ø  Participation certificate
Ø  Appreciation Certificate
And these are free of cost!! The event does not have any registration fee!!
The Partners of the event are as follows-
Digital media partner– MediVoice,
Online magazine partner–Teenagers,
Outreach partners– Seize the day, Amalgamated Cadet Forums and Plexus 24.
Club partners– Analytical JU, E-business & Entrepreneurship Club Jahangirnagar University and Rajshahi University Career Club.
The event started on 12 October,2020, the last date of registration and submission is 24 October, 2020. So, what are you waiting for? Grab your pen, paper or digital application and let your idea flourish via colors.
For more details please visit:  https://www.facebook.com/events/2485712428394960
Facebook page of HekimKhana : https://www.facebook.com/hekimfive