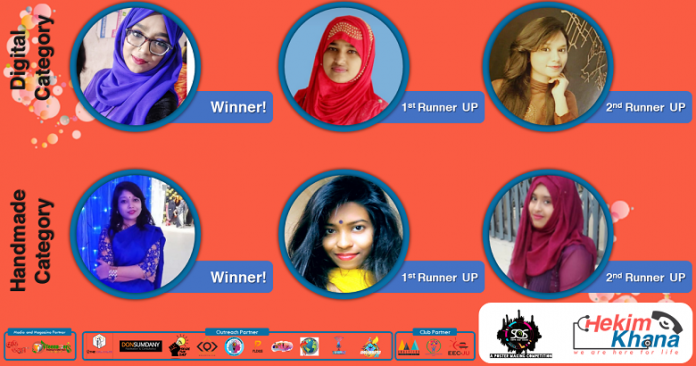 Winner list of the event SOS ( Save Our Souls): A Poster Making Competition
Hekimkhana,an organization which is ambitious for establishing a connection between the mass people and healthcare & medical sector by unraveling the complexities of health information and making it easy to understand. Because of a huge gap of knowledge, inequalities in the health sector persist.
Raising awareness is a key plank for the people approaching palliative health care. In order to take this initiative towards mass people, Hekimkhana launched an event "SOS(Save Our Souls):A Poster Making Competition". The purpose of this event is to find out creative minds among mass people and make them interested in presentation and sharing health related knowledge.
The competition started on 12th October, 2020 and ended on 26th October,2020. There were two categories of this competition: Digital posters and handmade posters. The participants were told to make the posters about health-related info-graphic, awareness or campaign posters or any information related to health and well being of humans. More than 100 participants took part. The submitted posters were judged by honorable judges.70% mark was carried on from judges' remarks and 30% from people's reactions.
As judges,there were present
Dr. Sayed Ghulam Magni Mowla (Associate Professor,Department of Medicine,Dhaka Medical college),
Dr. Partho Pratik Roy(Lecturer,Department of Anatomy,Shaheed Suhrawardy medical college), Mazharul Islam Shuvo ( Lead VFX Artist,Nightfire productions,Los Angeles,California),Tamim Anju (Charecter designer and comic artist).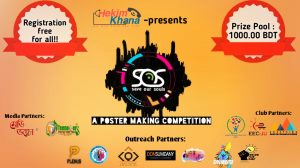 The result was published on 1st November,2020 through a live session from the facebook page of Hekimkhana. Dr.Tasdik Hasan(MBBS,MPH-Epidemiology,PGDDM,MSc-GMH) was invited as a guest for the result ceremony.
Results of the event are as follows-
In digital category-
★ Winner: Miftahul Jannat Jabin (Shaheed Suhrawardy medical college)
★1st runner up- Hosneara Khatun(Islamic University,Kushtia)
★2nd runner up- Nadia Sultana( Jahangirnagar University)
★People's choice- Tanvir Mushfique Tamim( Comilla Medical College)
★Special mention-Yabtida Yasin(Shaheed Suhrawardy medical college)
★Special mention- Anan Ashrabi Ananno (Linkpoing Univeristy, Sweden)
In handmade category –
★Winner- Kaniz Mumita(Shaheed Suhrawardy medical college)
★1st runner up- Sazia Sharmin Shrabony(Jahangirnagar University)
★2nd runner up- Mimma Zennurain(Hossain Shahid Shorawardi college,Magura)
★People's choice- Arina Afrin Arni(Govt. HSS College, Mgura)
★Special mention- Sadia Akhter Suma (Shaistaganj Islamic Academy and High School, Sylhet)
To make the event successful, MediVoice supported as digital media partner and Teenagers as online magazine partner.
Outreach partners were- Seize The Day, Amalgamated Cadets Forum,Don Sumdany, Plexus,Intelligent Minds,Artery,Prottasha organization,Evolution 360,Echoes and The Dreamers.
HekimKhana hopes to continue working in the health sectors hosting many more events in future! Stay connected!