Story of Bicycle girls who move forward. Students of Charteki Girls' High School and College in Kishoreganj cycle to their favorite educational institution.

No obstacle can stop them now. They are ruthless. Overcoming all obstacles, they are moving forward. Their name is 'Cycle Girl'. They are students of Charteki Girls High School and College in the remote area of ​​Pakundia upazila of Kishoreganj. Almost all the students of the institution ride bicycles from home to their favorite educational institution. That's why everyone calls their bicycle girl.
But in the beginning the path was not so smooth for them. They had to endure various harsh words, obstacles and insults from various people. The school is located at Charteki village, about 6 km from Pakundia upazila headquarters. The school was established in 1993 by some educationists in the area to spread women's education in the area. Mizanur Rahman, a senior assistant teacher at the school, said that in the beginning, the girls had to spread sacks on the floor as there were no benches or tables.

The teachers did not have chairs to sit on. The school has come to this position of glory today due to the sincere efforts of teachers, guardians and all. Without government allocation, the school has built a semi-finished building with its own funds, an open stage has been constructed. The school currently has more than four hundred students. College activities were also started with the school in 2011. There are more than 50 students at the college level. All the students from far away except the students in the neighborhood travel to school by bicycle.
Headmaster Aminul Haque said the students do not have to pay any salary at the school. Only once a year session fee and examination fee has to be paid. You don't have to study privately outside of them. When the school was established in 1993, Samia Ferdousi Kali, daughter of Keramat Ali of Joybishna village in Sukhia Union, was admitted in the sixth class. From that first house he started coming and going to school by bicycle. Seeing him, many more students learned to ride bicycles and started going to school.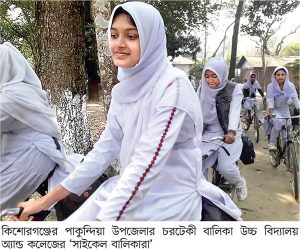 He added that in the beginning, many people did not simply accept that girls could come to school by bicycle. Some people used to look with crooked eyes. And there was a quarrel on the road. However, due to the dedicated efforts of teachers, parents, local people's representatives and the administration, all obstacles were removed at once. Samia Ferdousi Kali, who came to school on her first bicycle, is currently teaching at a private university, teachers said.
Not only that, five students from this school have become doctors. 10 students are currently studying in different medical colleges. After leaving this school, many students are studying in almost all public universities of the country. Last year, 8 students passed the SSC examination from this school. Eight of them got GPA-5. Ayesha Jannat Mim, an eighth-grader at the school, said she learned to ride a bicycle when she was in first grade at a kindergarten school. His father, Shahidul Haque Genghis, a Saudi expatriate, bought him a bicycle and encouraged him to ride it.
At first, while learning to ride a bicycle, he fell down and got severe pain in his legs. Even then, his enthusiasm for cycling did not diminish. His home is in Char Kaona Madhyapara village. Now he rides a bicycle from home to school, about six miles [6 km] away, every day. As the road is unpaved, it is very difficult to ride a bicycle in the rainy season. The wheel got stuck in the mud and fell for a long time and the clothes were ruined. Afshana Jahan Tamanna, a 10th class student, said she cycled about 8 km from Char Tertekia village to school.
Afia Humaira, an eighth grader, Anika Tabassum, a tenth grader, Shanta Islam Maumi and many others said they feel comfortable cycling. This reduces the waste of time and also does physical exercise. Parents and teachers encourage students to ride bicycles. The teachers of the school said that the students here are equally proficient in sports and other social and cultural activities besides education. They excel in various competitions. The school is known for its distinctive features as the students travel by bicycle. That is why they are all proud.
Written by: Saifuddin Ahmed Lenin, Kishoreganj