You can become an entrepreneur at the age of 90
A 90-year-old woman has stunned the world as a woman entrepreneur. Her name is Harbhajan Kaur and she lives with her daughter-in-law and granddaughter in a town in Chandigarh, Punjab. From the beginning, Harbhajan Kaur's cooking was appreciated.
Whenever there was a ceremony at home, the responsibility of preparing food was given to her. Each time, the guests were acclaimed for their versatile cooking. Harbhajan, who is shy by nature, never came in front of the guests even after getting this praise. The family has gone in silence and secrecy. Has fulfilled his responsibilities. She never said the deepest latent desire of the mind.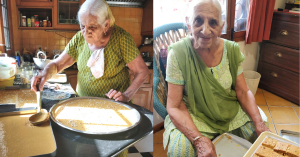 She spent most of her time in the kitchen, just like her mother and aunts. In addition to cooking, she was skilled in making all kinds of sweets and many kinds of delicious pickles. Harbhajan Kaur's daughter Rabina says she is so good at cooking that when we were little we never had to think about what to eat, she always made something for us. Such as- sweets, chocolate, sherbet etc.
Rabina added that every winter, the mother would make besan ice for the whole family, which would be spread all over the table. And the ice of this basin was the famous and well-known special sweet of the mother which is full of uniqueness.
The girl was very impressed by the mother's words and wondered if anything could be done. She didn't have to worry too much. She got her mother's special weapon, made some food to check her mother's cooking and took it to the next market and earned two thousand rupees that day. Rupee is the first earning of Harbhajan Kaur's life. A new journey began, an open path appeared.
From then on, the 90-year-old entrepreneur started making tuk-tuk sweets and pickles which gradually became popular. Receive orders for 15-20 kg of sweets every week, which Harbhajan Kaur is able to make by hand and deliver on time.
She has set up an organization called 'Harbhajan' and the tag line of this organization is 'I will remember when I was young'. Now Harbhajan Kaur is 94 years old. Yet this old woman is working hard. Has gained huge popularity in the last 4 years.
Made about 500 kg of sweets. At her granddaughter's wedding, her granddaughter wanted to make all the sweet grandmothers in the wedding, she made about 200 kg of sweet grandmothers alone and once again everyone was surprised to see the indomitable will power of this 94 year old woman.

The spread of 'Harbhajan' took place even more widely when Mahindra Group Chairman Anand Mahindra called Harbhajan Kaur the Entrepreneur of the Year on his microblogging site Twitter. In addition, said.
Madhu Tichakandani shared a video of Harbhajan Kaur. Over time, Harbhajan's orders have grown and so has Harbhajan Kaur's daughter Rabina. The 94-year-old woman's unfulfilled wish has been fulfilled and she has proved that 'old age is not in the body'.