F.R.I.E.N.D.S. is an American sitcom series aired on TV from 1994 to 2004 lasting 10 seasons. Having an Imdb rating of 8.9, it is considered as the most popular sitcom of all time. The show revolves around the story of six friends living in Manhattan, New York. The characters are Ross Geller, Ratchel Green, Monica Geller, Chandler Bing, Phoebe Buffay & Joey Tribbiani. Now, everyone who has watched F.R.I.E.N.D.S must have their favorite characters. And if you are a F.R.I.E.N.D.S. lover, you must have anticipated being with them & hang out a bit in Central Perk. But have you ever imagined any of them as your roommate? Let's find out how they might turn out to be as your soulful roomie! 
Being with the emotional one-Ross
No need to mention that, Ross has been the most naive & emotional character in F.R.I.E.N.D.S. Working in the New-York Historical Museum, Ross would irritate you by prattling about the dinosaurs and their paleontological ages. Likewise, his music couldn't get any worse, If he starts playing his "Electrifying infinite time" (Season 4) to you, don't forget to wear earplugs! Moreover, Ross would annoy you with his not-even-lamentable stories & would seek sympathy. Sharing his stories of failed dates due to his awful flirting skills, Ross would make you laugh out loud. Although Ross would be an irritating and melodramatic person as a roommate, he is indeed a good soul. Ross would be the person who would teach you to never give up on love. At least his unrequited love for Rachel will. Besides, Ross is a sweet & susceptible(Oops! )roomie to have. 
Being with the workaholic one- Rachel
If you are lacking self-worth thinking yourself good for nothing, Rachel is the perfect roommate to zeal you up. The brave & independent Rachel Green knows how to get established on one's own feet. So, if you're lazy, Rachel will cheer you up like, "Oh Honey! Everything's okay" Then again, don't dare to irritate or annoy her. As Rachel is notorious for her awful shouts "I kneww it!!" which will blow your ears, for sure. More than that, Rachel is also very sweet and caring to her friends. But don't trust her regarding borrowing something, she's skillful at losing things. Remember you have to console her when Rachel fails on another date.
Safety tip: Be aware of Rachel's (Very!)bad cooking skills.
Being with the sarcastic one-Chandler
To say nothing of, Chandler Bing is the sarcasm king. Being the roommate of Chandler would be awfully wonderful. Awful because Chandler will disturb you with his careless behavior & wonderful cause Chandler would make you laugh through his problems. That's the best thing about the Bing! Chandler is sort of a loner but knows how to laugh through his problems. Hence, it would make him the best roommate to cheer you up.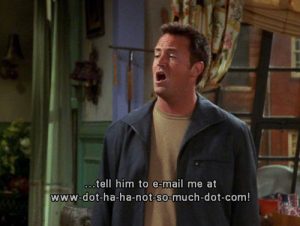 Being with the germaphobe-Monica
Definitely, Monica is a germaphobe, the one who cleans every mess she confronts other than her the mess of her life. Monica would clean every bit of your room which is okay. But at the same point, she'll haunt you with her sanitation. Although, Monica is a great cook and well makes the best sandwiches for you. Moreover, she'll teach you the value of discipline in life. But, don't get tired of listening to her inconclusive relationships and over-commitments.
Being with the blunt one-Phoebe
Caution for you if you're Phoebe's roomie. Since you're gonna feel self-pity with the narcissist Phoebe Buffay. Phoebe loves herself than anything(Even the vegetarian pizza! ). She loves to do what she has in mind which can sometimes annoy you(Ugh! Phoebe doesn't care). As a roommate, don't try to hide something from Phoebe. Because, Phoebe always gets that. And don't get afraid if you find out Phoebe's (so-called) magic powers behind it. Even after the awkward moments that you share with Phoebe, she will teach you how to love yourself too.
Safety tip: Don't let her sing for you or write a song.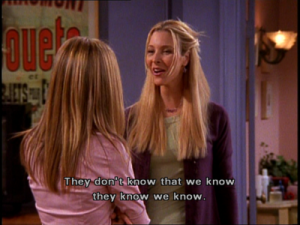 Being with the 'Play'boy-Joey
Okay! Now if you consider yourself lucky to be with Joey, brace yourself for some lethargy. Joey is undoubtedly the cutest guy amongst all. Thus, your roomie Joey will change dates very often. But don't even dare to fall for them (like Chandler?). Also, don't try to copy his catchphrase "How you doin' ?"(Like Rachel did) cause it's more like a JOEY thing. With taking all of Joey's stupidity into account, he would be a true friend in your woes. He'll be the man who'll lend you ears when you're in problem.
Safety tip: Don't ask him to help you. The situation will get worse than you've even thought.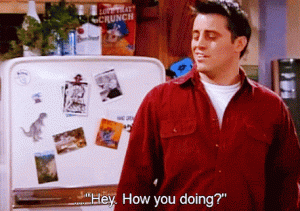 To end up, All the characters in F.R.I.N.D.S. are weird but admirable. Not to mention, they are beautiful in their dissimilarities. Even though when it comes to pizza, they are inseparable. So, whom you are choosing as a roomie?
Writer:  Ayman Sabit
Also, you may read: