Dilara Zaman is an extraordinary actress.
Dilara Zaman. Ekushey Padak winner Actress. She is one of the few talented actress in Bangladesh. The story of the life of this actress, who has starred in numerous TV dramas, is etched in the mind of the reader. She has seen the language movement, liberation war and other movements very closely. Her thoughts are ideal in consciousness.
Childhood period:
She was born on 19 June 1942 (Certificate 1943) in Burdwan, West Bengal, her father's place of work. Dilara Zaman's mother was only 16 years old then. The teenage mother did not know how to raise a child. Dilara Zaman's mother contracted malaria shortly after her birth. Could not feed properly. Meanwhile, the Second World War. Those who used to keep cows have also fled. It was not possible to get cow's milk. Somehow Dilara Zaman was saved by eating barley and rice starch.
The engineer's father was transferred from Burdwan to Asansol, then to Jessore during the partition. Dilara started her education at Momen Garden School, now it is Jessore Government Girls School. She used to walk to and from school. She would pay two annas for a tiffin. She used to buy murki and eat it. She used to go back to play in the field next to the school.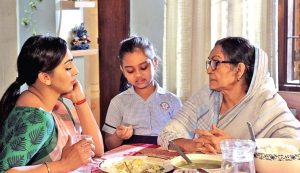 Dilara Zaman's house was on the shostitala. When she heard the train's whistle, she ran two minutes from home and stood by the railway line. When the train left, the frock was flying in the air. The porches of their houses were all red tiled. There were two coconut trees in front like a gate. After 65-7 years, she went to Jessore and found the shostitala, but she could not find the house anymore! All the huge buildings have become. When she was completely disappointed, a gentleman stopped the rickshaw while passing by and said, 'Aren't you Dilara Zaman?' 'Yes'. 'Your nickname is Lily?' 'How do you know?' 'This house, this house …!' The man said exactly where you were standing! He said, 'This house was bought by my uncle. He always sees you on television and talks about your childhood, your father. 'Dilara Zaman then sat down on the ground, crying. He took her inside the house. How many memories I remembered!
How was Dilara Zaman as a child?
When the storm came, she would run to the backyard to pick mangoes. The house next door was later the Chief Scientific Officer of the Atomic Energy Commission, scientist. M. Shamser Ali. When Dilara was four or five years old and he was seven or eight years old, one day she climbed a tree and planted guava. He went out and said, 'Excluding studies and planting guavas? Naughty girl, wait, I will tie you to the wheels of the cart. 'Little Dilara was very scared then. Thought he would really do it! His younger brother Tota was Dilara's playmate.
Many years later, probably in the 1970s, he was once the chief guest at a Shishu academy in Dhaka, Dilara Zaman was the special guest. Dilara Zaman doesn't notice him anymore. When he reminisced about it in his speech, Dilara Zaman shouted, "Brother Shanti!"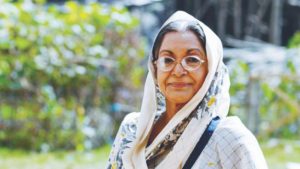 Once beaten in a procession!
Dilara Zaman Bara Khalu was the Deputy Magistrate. He had a house next to the 'Tasbir Mahal' cinema hall. The dialogues of the movie could be heard from home. Whenever she went to visit Khalu's house, she would run to the cinema. Sitting in the VIP box for 10-15 minutes, she would run home again. When it comes to language movement. Parents have heard that students have been killed in Dhaka. She did not understand the meaning of the words.
One day after 21st February, a procession was passing in front of their house, 'I want Bangla as the state language'. Little Dilara also went a long way with slogans behind the procession. When she returned, she found her mother standing at the gate. She was upset not to find her. Got a light beating with a hand fan!
Come to Dhaka and others
In 1953, her father moved to Dhaka. Dilara Zaman was admitted in class six in Banglabazar school. From there she passed matriculation in 1956. Then, while studying at Eden College, Sukant Bhattacharya's poems filled her mind. Those who were more revolutionary, reading their poems and biographies, seemed to be a little like these struggling people! From then on writing started.
Her first poem was published in 1956, Ittefaq's 'Kachi Kanchar Asare'. This is the first time her name has been printed – Dilara Ahmed (Lily) after her father Rafiq Uddin Ahmed. But she used to write in secret. Parents were talking, before studying! At that time the only magazine for girls was 'Begum'. She started writing stories there too.
Today's Dhaka cannot be compared with the Dhaka of 1953. Then, if you went somewhere by rickshaw, you would be surrounded by a sari with a curtain around the rickshaw. There were not many cars on the road. Only the jeep of her father's office used to come in front of the house. At that time the elite area of ​​Dhaka was Rankin Street. In 1962, when the New Market was being built, she would walk from home to see the big gate.
Introduction to drama
The first play on stage was in 1958, at Curzon Hall. University drama. Starring Mumtaz Lily Khan and Jahrat Ara, the heroine of 'Mukh O Mukhosh'. Then she saw in amazement, the living people in a stage were talking, crying, laughing like them. This magical act of acting became a seed in her mind. That seed has germinated slowly in later times. That same year, she starred in a short play at the school's matriculation farewell ceremony. Sarat Chandra Chattopadhyay's story 'Fruit of the Case/ Mamlar Fal' was their text.
They acted in theatrical form. What acting did not know; She came like a storm and said dialogue, then went out like a storm. Then there was no makeup like now; The chalk powder brought from Shankharibazar was mixed with vermilion, they were smeared on the face, and the eyes were decorated with kajal. Dilara Zaman did not clean her face after the performance that day. On the bus from Banglabazar School to Lalbagh, she kept her face out of the window all the way, as if everyone could see that this girl had acted! She felt like a very proud woman, as if she had won something huge!
How were your college days?
Professor Rokeya Rahman Kabir was a very cultured and modern minded person. She used to guide their cultural programs. Dilara Zaman also acted in college plays. That is when she got acquainted with the present Member of Parliament Matia Chowdhury. She was the VP of Chhatrasangs, Dilara Zaman Literary Editor. In the student movement of 1962, they used to go out of the college by climbing over the walls. Curzon Hall of Dhaka University, Amtala Rashed Khan used to gather in those places and listen to the speeches of Menon and other student leaders with fascination. The blood was boiling. From then on, a tendency towards left politics was born.
In 1984-85, she was involved with the student union during her studies at Dhaka University. However, she was not such a great student leader. Lived in the back row. Apart from that, she became a regular writer. The story with pictures was published in the Eid issue of 'Begum'. The office of 'Azad' newspaper was near their house. Poet Habibur Rahman used to work there. He and the poet Ahsan Habib loved her very much as a younger follower. She got acquainted with her life partner Fakhruzzaman Chowdhury through writing.
About 1984. At that time there was an afternoon literary session at the Bangla Academy. One day Dilara Zaman's mother was ill and she immediately went to the hospital after reading a poem. Fakhruzzaman Chowdhury was then a Research Fellow of Bangla Academy. Dilara Zaman did not know him; Didn't even hear the name. In that session of the Bangla Academy that day, he criticized one of her stories the writer is indifferent to writing 'and so on. Later, when others told Dilara Zaman about it, she thought, who is this man, I have to see!
Incidentally, his niece was studying with Dilara. The next day the girl also said, 'Lily Apa, yesterday my mama criticized your writing. You probably haven't heard. 'Dilara said,' Who is your mama? 'Said the name. She said, 'Tell your uncle, I want to meet him. I will give him a strong answer. 'Dilara Zaman was very angry.
As soon as the class was over, she went straight to Bangla Academy. As soon as she got off the rickshaw, she saw a gentleman coming from inside and saying, 'Are you Dilara Ahmed?' Dilara Zaman said, 'Are you Fakhruzzaman Chowdhury?' She went and sat down with him in the dark library below. He used to sit there and do research. She saw a man wearing glasses, who looked very wise. Dilara forgot all about Zaman's preparations for the quarrel. She didn't talk to him much that day. At one point he said, 'Will you go home now?' Dilara Zaman said, 'No, I will go to the hospital. Patients who have no relatives, or who live alone — talk to them a little. Give a little food. When she told him about this, he was very surprised.
Dilara Zaman said, 'No wonder. All people are lonely. A man can be lonely in a crowd of hundreds, even in the midst of noise. 'He was fascinated to hear the words. Then he said, 'Tonight at 10 o'clock I will read a story in the radio literature room. I could not find the plot of my story. Talk to you and keep up the good content. " The man said I got a theme after listening to you. '
Then there was the small battery-powered radio. Dilara Zaman was listening to the radio with her head, he was reading the story. The name of the story is 'Prahra'. A girl goes to the hospital and accompanies patients without relatives, her 'sad conch-like eyes'! Dilara Zaman had never heard such an adjective in her life. He is describing it in stories. Quite thrilled. Dilara Zaman has just entered her youth. She studied Bangla in the university. He is also a former student of Bangla department. Dilara Zaman could not hear the end of the story; Fell asleep!
The next day she went to him again. Spoke. Gradually the relationship developed. Then she got married on February 24 of the same year. That was the journey of uncertainty for Dilara with him. Because he still doesn't have a job. Get a scholarship of only two and a half hundred taka. She got married against everyone's wishes. Later everyone agreed. 2014 marked the 50th anniversary of their marriage. He was very ill then. They came from America. He has to be kept with oxygen. After coming from America, her husband had to be taken to ICU six times in two years. You have to set it up at home just like in a hospital.
Dilara used to work a little then. She told everyone to leave her in the evening. There was a drama shooting near the house that day. She was called more than once from home. She came and saw many cars in front of the house. Her heart was pounding, maybe something had happened to him. I don't know how he got up. The people in the house went and saw him. Earlier, when dhe left for America, she left all the things of her 45 years of life to the people. Didn't think that would come back again. At the end of two years, the two of them came back because they were upset for the country. There too he was in the ICU twice.
However, when she returned home that day, she saw that his two daughters had arranged a wedding anniversary. That was the last wedding anniversary of Dilara Zaman's life. Her husband died on June 12 of that year.
University life:
Dr. University. Munir Chowdhury, Dr. Nilima Ibrahim, Dr. Anisuzzaman, Dr. Moniruzzaman, head of the Bengali department. Abdul Hai got them. Everyone loved her very much. At the end of the class she would go to Sadarghat via Nawabpur and Islampur in a procession; She used to return in procession again. Cultivation, the seed that was sown to nurture culture in mind; And the woman who loved drama, acting, literature, was born in her — it was at this time.
So university days are the best time of her life. Back then, boys and girls did not play together. Boys dress up as girls, while girls dress up as boys. In 1973, for the first time in the university, boys and girls acted together. 'Mayabi Prahor' written by poet Alauddin Al Azad. Abdullah Al Mamun of the history department, the science student. Enamul Haque — they also acted. Dilara Zaman said, 'I don't know if dad will give permission or not.' Hearing this, Munir Sir wrote a letter to her father. At that time Dilara Zaman's mother's distant brother Shahid Mofazzal Haider Chowdhury was also a teacher of Bangla department. But did not dare to tell him. Since Munir Sir is involved in the drama, Dilara Zaman's father did not agree with his letter.
Acting life:
The first television came in December 1974. The experimental broadcast lasted for a few hours from evening. DIT had a television station. Studio in a small room. The dialogue had to be memorized like reading an exam. The rehearsal lasted for five-six days. On the day of the evening drama, she had to go to the DIT by 2 pm. Live broadcast. Fear of being out-of-frame as soon as one hand moves. In this way, it was necessary to act like a battlefield. Dilara Zaman made her television debut in early 1985. Munir Chowdhury's wife Lily Chowdhury was her mother in the play 'Tridhara' produced by Mohammad Zakaria.
There is no account of how many TV dramas she had acted in! In their time, at least until the 1990s, they didn't even think about taking acting as a profession. Especially girls have to do something other than acting to make a living. Making a living from acting as a profession has been a gradual development since independence. Just as Mancha Nat has undergone a revolution in the post-independence period, so now there are so many TV channels that she calls it becoming an industry.
With so many channels, so many people are making a living and taking acting as a profession. Not just acting, thousands of people are able to make a living from being involved in various fields of drama production. Dilara Zaman used to teach, and used to take time out to act. However, acting has been her profession for the last 18 years.
Teaching stories …
Sher-e-Bangla School and College was then known as Narishiksha Mandir. After marriage, the family could not run on the husband's scholarship of two and a half hundred taka. The house had to be rented for two hundred taka. At that time she used to do one drama every four or five months on radio and television. So she started teaching in Nari Shiksha Mandir. From there, she went to Mymensingh in 1966 and passed B.Ed, M.Ed besides teaching in kindergarten.
Went to Mymensingh for her husband's job. Unable to continue, he no longer submitted his PhD dissertation; He took a job in the government's information department (later he was the director of the administration department of Bangladesh Television). The war of liberation started while Dilara was in Mymensingh. They fled to the village. She was kept hidden behind the Golaghor so that no one would understand that a young woman had come here.
After independence she returned to Mymensingh. Then the husband was transferred to Chittagong. She became the first mother on July 20, 1983. Television could not be seen in Chittagong then. She used to do dramas on the radio. That same year, she joined the Arindam Natyagosthi. Every Sunday she rented a Muslim Hall (now Chittagong Public Library) and performed plays. She also rented the halls of St. Mary's School on holidays. What is now art is a one-story building; Like a library.
They used to rehearse in the field or on the verandah. At that time, every year a drama festival was organized with the participation of theater groups representing the whole country. They went on for three or four years. Dilara Zaman's performance in Brecht's play 'Mother' in the context of the Vietnam War was highly praised.
She moved to Dhaka in 1970. She was called by many theater groups in Dhaka, but after that she could not do any more plays. Because then the girls are younger, go to school; They had to give time. Of course, now she wants to do a play again. But the body does not give in.
When she came to Dhaka,  She used to teach at Meherun Nesa School in Bhooter goly, near their house. From there taught in BAF Shaheen school for many years. then taught at Vikarunnisa Noon School, and retired in 2000. There have been many conflicts with acting while teaching. She never skipped school. However, She have heard harsh words from some people in the school. If she had been as generous as she is now, she might have done more.
When she was teaching in Shaheen school, a foreign serial called 'Dallas' was shown on television. Its heroine's name was Sue Ellen. The students used to call her 'Sue Ellen Madam'. She has so many students, maybe she remembers looking at them in primary school; But now they have grown up, She can't recognize them. Once on her way to America, she lost an important token at Doha airport. Suddenly a boy came and said, 'Madam, I am your student.' She seemed to found straw in the sea. The boy works for that airline. He made alternative arrangements.
Meanwhile, last year, students held a reunion at Chittagong Public School with former teachers. Gave a reception. Even on the streets, when someone says, 'I was your student' — she thinks this is a great achievement as a teacher.
If you make a mistake, you can do it again this is the advantage of shooting. It is as good as it is bad. Rehearseling many times to master the dialogue, assimilating a character — this attention has decreased a lot. It is also seen that an actor-actress is working on two or three plays on the same day. Then there would be dramas one or two days a week; After all, everyone in the neighborhood was sitting around a television set. Speaking of that play, the characters would stir the audience.
Now that television dramas have become mere entertainment, we seem to have lost the ability to think about society, life's problems and words as we did then. The artist has a social responsibility. When Dilara Zaman works, she thinks that this dialogue, this character will have an effect on someone's mind. As a result, you have to think and understand a lot of things. She could not play many roles before because she used to teach. Wondering if there is a negative impact on students?
Acting in movies:
She has acted in several films including 'Aguner Parashamani' (1994), 'Monpura' (2009), 'Halda' (2016). Chandragrahan (2006) won the National Film Award.
Literary composition:
Story books Astraag (1982), Arshi Ami (198), Mrigaya Sharabiddha (198) and Golpasamagra (2010); The novel 'Many Blue in the Sky' (1974) and the memoir 'Dilapidated Leaf Falling' (2011).