Afrah is also known to have acted in various television commercials. Afrah Evelena, the child actress, is a Model and pursues her education at the Sir John Wilson School. Her nickname is Afrah. Kazi AfrahEvelena is one of the youngest and sweetest child artist of Bangladesh.
She has gained popularity in Television, Advertisements, Photo shoots and other Modeling Sectors. In addition to modeling and acting, she has a variety of talents that one constantly bringing her more success.
Born and Brought up:
Afrah was born on April, 7 in 2010 at Niketon in Dhaka. That is she was born at her parents house. Kazi Afrah Evelena currently lives with her family at Niketon in Dhaka. In her family She have her mom, dad and younger brother name Kazi AsrarUzayr. Her dad's name is Kazi Tariful Islam. He is a Businessman. And her moms name is FibikaTabassum. She is a private service holder.
Education and others:
10 year old Afrah studies in 4th grade at Sir John Wilson School .Afrah is impossibly a favourite student of her school teachers. She did participated in various school competitions and won valuable prizes.
Career Start Year :            
Her journey in media started in 2016 with the TVC of IFIC BANK Ltd. -"ONE STOP SERVICE". One day her mom informedme that Apon a renowned director selected her for the TVC of IFIC Bank Ltd. Afrah was surprised and was very happy, but worried how she could do that. She did not even know anything about modeling.
Afrah went to the shooting spot with her mom. That moment was very exciting. With acurious mind, They enter into the set. It was a new experience for her.
Everybody were very friendly and caring specially director. For the first time Afrah met actress TasnuvaTisha. She was very nice. Afrah have learned many things on acting from Director and Tasnuva Tisha.
Hobbies and Interest:
Her hobbies are painting, singing, dancing & playing piano.Afrah love to read books.She want to continue modeling & acting. However,her first priority is her study.She loves her family and her country.Afrah want to do something good for the country and make her family proud of her. For that, She want to complete her study on Electric Engineering.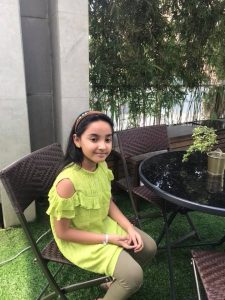 Favorite :
Afrah like to play video games with her brother, helping him with his study and visiting super shops and malls with her Grand Father. She loves to travel abroad with her family.
Favorite Color: Rose Gold        
Favorite Food: Pizza
Favorite Movie: Ralph Breaks the Internet-Wreck it Ralph 2, Zombies 2.
Favorite Place:Disney Land (Paris), Pan That Beach (Vietnam)
Favorite Person: Her Parents
Favorite Game: Xbox Games.
Other Achievement:
Awarded Certificate as the Finalist, at her school's Art Competition
Awarded Certificate of Spallation at her school Spelling Competition
Awarded Trophy for best Art on Victory Day from Niketon Society, Gulshan.
List of Work:
TVC:
One Stop Service (IFIC Bank Ltd.), Directed by Apon Ahmed
Daily KalerKontho (National News Paper), Directed by Hasan Towfik Ahmed
GaziTyre, Directed by AshfaqUzzamanBipul
Savlon, Directed by Abdullah Mohammad Saad
Pran Sauce
Banglalink (Eid Special), Directed by Abdullah Mohammad Saad
Banglalink 4G, Directed by Adnan Al Rajeev
LG Butterfly Insta View Refrigerator, Directted by AnamBiswash
LG Buterfly
Pran Pudding, Directed by MasudZakaria Sabin
Diabetic Retinopathy, Directed by Amal Biswas
Lifebuoy, Directed by RaselShikder
Pran Layer Cake
Fit Elegance, Directed by ImtiazZahid
CenterGel, Directed byOmar Uzzal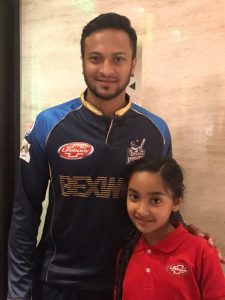 OVC:
Wonder Cake 1
Wonder Cake 2
IPDC Finance
Farm Fresh
Unilever
Chopstick Noodles
Huawei Mobile
Cats Eye
LG Washing Machine
RadhuniMashla
ACI Salt
One Bank
Women's Day (Music Video
Anti-Smoking
ACEFT Dream Land
ACEFT Future Land
Drama:
Ekannobortir Bangladesh, Directed by Tarik Anam
Movie: She is waiting for a good story. If she get any good story based movie she will love to be the part of that movie.
Photo Shoot:
Aarong
Sailor
Shoishob
Yellow
Top Ten
Pepsodent
Chopstick Noodles
Brentwood
Some others works:
Anchor at DurontoTV'slaunching event.
Anchor at Gaaner Raja (Season 2), Channel I's launching event
Voice Artist at Duronto TV's various programs
Performed at Duronto TV program DurontoShomoy (season 1 & 2)
Performed at DurontoTV program Dusto Misty
Ramp Model for SAILOR
Ramp Model for Azra Mahmood
She wants to work for the industry as long as she could. Also desires to be an Engineer . Although she is very quiet, she is not afraid in front of the camera. So from the very beginning, she got a lot of interest in acting and everyone appreciated it. Earlier, she also recited some songs and poems. Wants to be regular in front acting.
Contact for Casting:  [email protected] (Father)