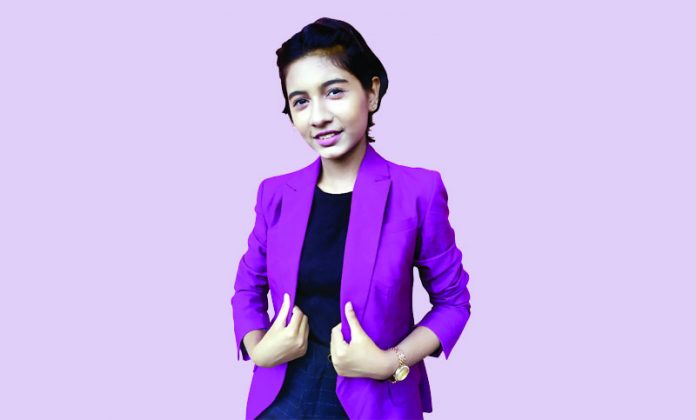 Rafia Binte Alam is the number one little chef. She is only sixteen years of age. At this time of remoteness, it can be thought that a sixteen year old girl is making a bet in cooking!
While others of this age spend time eating delicious food in different restaurants, this girl has started cooking by herself. The important thing is that she has become the number one Little chef of the country as well as won 5 lakh taka ! When others have spent money, she has taken the prize money. Her name spread all around. She has become the number one Little chef while cooking as a hobby. The name of the best little chef of the country is Rafia Binte Alam. Champion of the children's cooking reality show "Teer Little Chef Season 2". She has received five lakh taka in cash, crest and certificate as prizes.

Going to the kitchen and testing the food prepared by her mother was Rafia's daily habit. One day Rafia appeared in the kitchen with another plan. She decided that she would make a recipe exactly like mom. Her mother also helped her. From then on, the interest in cooking was born. The next afternoon she said to her mother, 'Mommy! Today I will make pasta for everyone. 'Mother also agreed. Everyone appreciated the pasta made by Rafia. Of course, the urge to cook went away. Rafia's elder sister student of Chittagong Medical College. Seeing Rafia's interest in cooking, she also inspired her, helping to create new recipes.

When the Little Chef ad was given, the mother said, 'Will you take part?' Rafia immediately agreed. This is an opportunity to let everyone know your talent without keeping it confined to the house.
The audition round was tough. She has to answer many selection questions related to cooking. Rafia did well there. The judges were also impressed by the answers to various questions about her cooking in Viva. Rafia is one of the four selected from Chittagong zone. Reaching the grand final step by step in Dhaka after various episodes.

There are so many funny memories surrounding the competition, 'Little Chef's participent friends  ordered burgers one day. Rafia was given a Naga burger. After eating, the condition weakened. Jhale's face was burning. What a smile they showd! Later, however, they made sugar syrup. As a result of going to Little Chef, She got acquainted with friends from different parts of Bangladesh. Since becoming the champion, everyone has been calling and wishing. Many are also greeting her mother over the phone. 'Rafia's favorite recipe is pizza, brownie. Made a recipe called 'Tomato Cream Soup with Croutons' in the grand final.

30 people were selected for the main episode. In the first episode they are given cooking training. Three reached the grand finale at the end of 13 episodes. Each episode had to be cooked. The judges checked the recipe and checked the quality. Then one by one she would ask questions and respond. For example, in the recipe, which ingredient is less or which is more, whether the kitchen is untidy or not, etc.

The first runner-up was Khairun Nahar Tripa, a 10th class student of Karatoya Multimedia School and College, Bogra. She gave her first audition in season 1 in 2016. However, That year she did not get a chance to participate in the main episode of Dhaka. She felt bad watching the show on TV. So she immersed herself in cooking for a year. At the end of 2019, you can register on TV and go to audition. Her name comes first. She cried happily that day. She had to go to Dhaka on 5th February.
Although She didn't think she would go to the finals, She was happy to think that I would have many friends. On the first day of the main episode, everyone felt dizzy and thought they would not be able to go far. But no, step by step came the final and became the first runner-up.

Second runner-up is Humaira Mustafa, a fifth grade student at Holy Crescent International School in Dhaka. She had been interested in cooking since She was in third grade. New recipes by watching YouTube. And she made and everyone eaten at home. Humaira's mother used to help her. Asked about the feeling, she said, 'Really awesome. I am very happy to be the second runner-up in the cooking competition at a young age. '
Rafia's advice for those who are new to cooking is, 'If you have been interested in cooking since childhood, it should not be neglected. Cooking is an art. So I want to have the practice. Must be taken as a passion. You have to try to make new recipes. You have to try to make different types of food without cooking one type. But I want to start with Bengali food. '
This small chef specializes in making Indian, Chinese, Thai, Bengali food. She said in words, he wants to give a restaurant in the future.
She also holds prizes in debates, recitations and painting competitions. She is also regularly participating in science and math Olympiads, lectures, performances and other cultural events. The study is going on at the same pace. Now she is studying in 10th class in Silver Bells Kindergarten and Girls High School in Chittagong. Rafia's father's name is Safiul Alam, mother's name is Sultana Alam. She got Golden GPA Five in Primary Education Completion and JSC examination. She wants to work in NASA when she grow up.