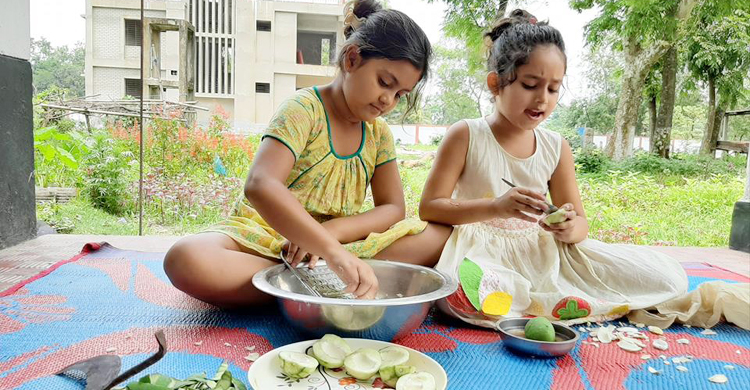 Recently, a song sung by a little girl Leuna Tasneem Sammyo-in a melodious voice has spread on social media Facebook. 'Mor Ghum Ghore Ale Manohar', 'Bhramar Koiyo Giya', 'Sat Bhai Champa Jago', 'O Ki O Bandhu Kajal Bhramara', 'Rod Tolmal Meghna Nadir Kache', 'Tomar Kunj Sajao Go' are some of the songs already being sung by various people. In the timeline. Everyone was fascinated to hear the song of this little girl. Wanted to know his name and identity.
Eventually, the girl's identity was revealed through Tamim Yamin, executive officer of Melandah upazila in Jamalpur district. He was the one who delivered the girl's songs live from his Facebook account to Facebook users at different times.
Melandah Upazila Nirbahi Officer Tamim Yameen said, 'The name of the girl who has become the voice of the whole country is Sammyo. The full name is Leuna Tasneem Sammyo. If you want to see him, you have to come to Melandah upazila of Jamalpur district. And if you don't want to come this far, wait a while. He will reach into your heart. Basically with his songs. '


It is known that Leuna Tasneem Sammyo is the second child of mother Arjuman Mostari and father Azmat Ali. Azmat Ali is working as an office assistant in Melandah Upazila Social Service Office. Students of Upazila Shilpakala Academy study Sammyo songs, draw pictures and dance as well as Sammyo and do it very well. He is a 3rd class student of North Melandah Government Primary School.
Tamim Yameen said, 'After watching the song live, Satkhira Sadar Upazila Nirbahi Officer forwarded my batchmate Debashish Chowdhury to Jubayer Al Mahmud Russell. The video continued to spread after he uploaded it from his account. I am thankful and grateful to them. '
The Upazila Nirbahi Officer said that Someshwari Nadi had selected him to sing the song 'Mor Ghum Ghore Ale Manohar' in a competition. Thanks to him too. '
One of the reasons for getting so close to Sammy is the UNO girl sitting next to Sammy. Their only daughter is Lilith. Sammyo and Lilith stay together all day as they are friends. This opportunity is available to him. As a result, many have congratulated UNO. Some have asked her, is Sammyo her daughter or not?
UNO Tamim Yameen said, 'Sorry to confuse everyone without knowing it. But what, Sammyo and my daughter play together. They sing, draw, dance and go to school together. Isn't she my daughter! Lots of love for equality. '