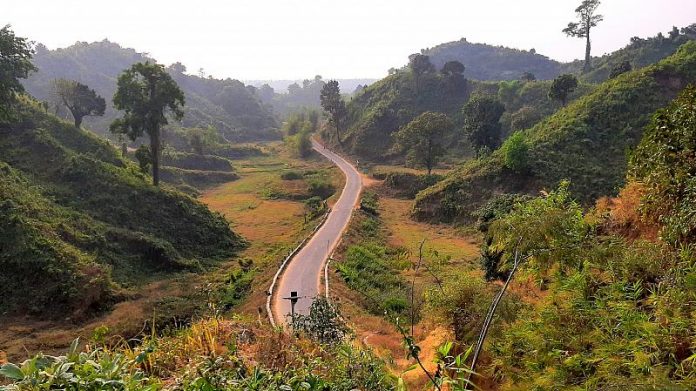 Ruposhi Gowalia The high hills and the greenery of 'Gowalia Dhala.' The scenic view of the winding Goalia road that flows through the hills captivates the eye. The combination of mountains and roads has created a thrilling journey for tourists. Due to this, the number of tourists visiting Gowalia Dhala is increasing day by day.
With the patronage of the government, this natural 'Gowalia Dhala' can become an attractive tourist spot. Gowalia Dhala is about 18 km south of Cox's Bazar city. Gowalia road can be seen from Cox's Bazar-Teknaf Marine Drive to Rejukhal Bridge.
This tourist spot can be reached on foot from Rejukhal Bridge. Although Gowalia Park is already known to many as 'Mini Bandarban', it has recently come to be known as 'Ruposhi Gowalia'. Every day tourists are coming here from far and wide. The reporter talked to some tourists who came to visit. Tourists say that there is no alternative to 'Ruposhi Gowalia' if you want to adapt to the unadulterated completely natural environment.
Sohail Parvez from the Farmgate area of ​​Dhaka came on a microbus trip with his family. "I've been interested in seeing the world's longest beach for a long time," he said. But here I came to find this natural blue land (Ruposhi Gowalia). Not here, in fact, the satisfaction of travel would be incomplete. The high mountains and the greenery will really attract anyone.
I was especially fascinated by the winding narrow road through the big hills. ' The Fayez Ullah couple from Satkania area of ​​Chittagong came on a trip to 'Ruposhi Goalia' with their youngest daughter Saima. Although the family lives in the Rumalia Chhara area of ​​Cox's Bazar for business, it is not possible to go out of the city. So Fayez Ullah set out on a journey in the midst of hundreds of activities.
Fayez Ullah said, 'I have been in Cox's Bazar for a long time. But I did not know before that there is such a beautiful area. I think Ruposhi Gowalia is one of the places of interest in the country. ' Saifur Rahman Sohan, a local youth, has come forward in the tourism business by capitalizing on the arrival of tourists every day.
Saifur Rahman Sohan, son of Syed Ullah of West Goalia area, said, 'Rupshi Goalia is attracting more tourists as the Cox's Bazar Forest Department has built a roundabout. So we started a mobile business and started selling water, chips, and hotpot for tourists. The sales of the shop have increased unexpectedly day by day. ' Deepak Sharma Dipu, President, Cox's Bazar Forest and Environment Conservation Environment, said, "Tourists visiting Cox's Bazar just go to see the sea. But, Ruposhi Gowalia is a tourist spot that will make anyone love the mountains, the forest, and the environment.
' Tofail Ahmed, a senior journalist in Cox's Bazar, said: "There is no such thing as a tourist spot so close to the city. If the government takes the right plan, an attractive tourist destination will be developed in the natural environment. In particular, the construction of a lake with a dam right next to the forest department's roundhouse' will add a new dimension to tourism. When asked, Humayun Kabir, South Divisional Officer, Cox's Bazar Forest Department, said, "No plan has been taken for tourism. 
A roundabout has been set up along Goalia Road for the convenience of the forest department officials and employees. Although it was originally made for leisure, now I see an increase in a tourist attraction. ' He said, 'The forest department has created gardens in the hills this year. Tree saplings have been planted in about 75 hectares of forest. Next year, gardens will be created on another 50,000 hectares of land. Green forestry will be created from the high hills next to Rejukhal to South Goalia via Goalia Road. But if the government thinks so, a tourist spot can be built there. '