Idrakpur Fort is one of the ancient structures located in Munshiganj, very close to Dhaka. If you want to see the traditional pattern of Mughal architecture, you can go and back on the same day.
About Idrakpur
Idrakpur fort is located in Munshiganj district, 24 km south-east of Dhaka. Munshiganj was an integral part of the famous Bikrampur. During the reign of Emperor Aurangzeb, Mir Jumla, the Mughal subedar of Bengal, built the fort of Idrakpur in about 180 AD. This brick fort was built to protect the whole area including Dhaka and Narayanganj from the then Mughal pirates and Portuguese invasion.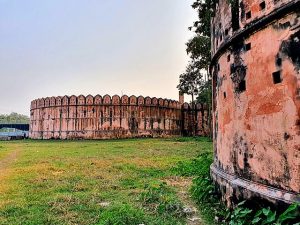 There is a rumor that this fort was connected with Dhaka's Lalbagh fort by a tunnel. There is a circular enclosure at every corner of this high-walled fort. There are numerous quadrangular holes in the wall to shoot at the enemy from inside the fort. The only arched door is on the north side. In the middle of the east wall of the main wall is a circular platform 33 meters in diameter.
Almost every fort had this system to monitor the movement of the enemy from a distance. An additional wall surrounding this stage joins the main wall. It was built to strengthen the fort's defenses. There are four towers at the four corners of the fort. The open interior of the fort surrounded by four arms measures 55 meters and 82.50 meters. It is surrounded by 6 meters high and .92 meter thick brick walls and Marlon designs on the walls. In the middle of the eastern walls of the fort are huge high round drums rising outwards to the east.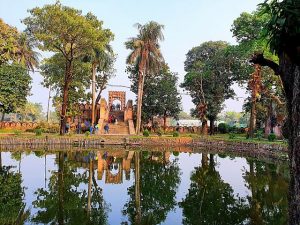 Surrounding this drum is an additional trapezium-shaped fort wall in the east. The foundations use bricks, lime-surki, used in the Gupta, Pala, and Sen periods. The fort was also found in the form of square tiles, bricks, laid on lined pitchers as a special technique of floor construction among the structures built during the British period during the renovation. Presumably, the technique was used as a moisturizer. Ichhamati, Dhaleshwari, Meghna, and Shitalaksha rivers are located within three kilometers of the fort.
The Idrakpur fort was declared a protected monument in 1909 as a unique masterpiece of Mughal architecture. Idrakpur fort is one of the 3 water forts of Mughal Dhaka. How to go Idrakpur fort is located near the old court office of Munshiganj district headquarters. From Gulistan, you can come to Muktarpur in Munshiganj and take an auto to the fort.
If you have your own transport, you can take the Dhaka-Mawa road and travel through Srinagar to Idrakpur fort. You can go to enjoy the nice roads and the proximity of nature. No entrance fee is required to enter the fort.