The boy whose movements will catch everyone's eye is the cloud. The full name is Mahir Sarwar Megh. Thick black hair on the head, fair complexion, tall as age, good health. I will be friends with him when the conversation starts.
It doesn't look like this boy has all the pain in the state. Journalist couple Sagar Sarwar and Meherun Runi were killed on February 11, 2012 in the capital's West Rajabazar. Their only son is Megh. February 11 will mark the 5th anniversary of the loss of parents. Megha's life has already undergone many changes in the loveless life of her parents.
The dreaded boy is an all-rounder like his father. He is a seventh grade student of Bangladesh International Tutorial (BIT). Although his parents are journalists, he loves sports. In particular, cricket. From now on, he dreams of becoming a famous cricketer. On Thursday, he went to Megh's uncle's house on the fourth floor of house No. 8/12 in West Rajabazar and saw that he was busy with all childish mischief.
Seeing this reporter, he could not understand, the journalist has come. Megh has been accustomed to talking to journalists for several years. When the death anniversary of the parents came, various media workers stumbled there. He sat in the living room of the house and went inside for a while. Then when he came back, the kingdom of clouds started in the house.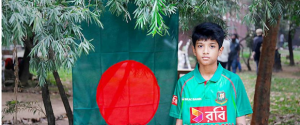 Pasting three pictures of Sagar-Runi with a small cloud on a wall of the house. There is a picture on the other wall, taken on Sagar-Runi's wedding day. Looking at the three pictures, the talk of the clouds, in the first picture I (cloud) between the parents, in the second picture I am below them and in the last picture I am left. Megh said, 'I remember his parents almost at night. I remember them when I lay down.
The places I went with them. I wonder if they would have stayed. ' Megh has only his uncle, two uncles and a grandmother. However, he has not met his grandmother and uncle for almost a year. Megh says, I can't go to my grandmother's house due to the pressure of studying. I saw my grandmother many days ago. That will be one year. I haven't seen him since.
What do you do all day When asked, Megh's simple answer is, 'I wake up in the morning, brush, have breakfast, get ready for school. Later Rupa (Farzana Rupa, 71 TV) went to Aunty's house. From there I go to school by car. ' Megh is most cherished at home by his great uncle Nowsher Roman (working for Independent TV), Megh claims. And little Mama is his best friend, with whom he can do everything from fights, sports, gossip.