Why children and teenagers will be in jail?Children are as sacred as flowers. Sukanta Bhattacharya wrote, "The new baby has arrived, he has to be given a place." But can we do that?
Somewhere around us today, children and teenagers are no longer safe. They are suffering from insecurity on the way to school and even at home. And as a result, they may be increasingly involved in crime. We should blame ourselves before blaming them for this. If we could ensure a beautiful environment for them, they would not be involved in crime.
338 children are living in different prisons of the country without being criminals. They have been kept with the mothers who are imprisoned for various crimes. However, their mental development is being hampered by living in captivity. In this case, the experts think that it is necessary to create a separate society inside the prison for these children and their mothers and take training and treatment measures.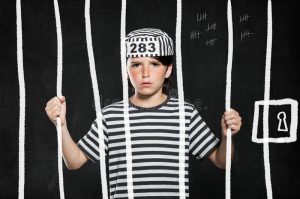 According to the information received from the Department of Prisons, 338 children are lodged in 6 prisons of the country. These children are with the mothers who are imprisoned for various crimes. Each of them is less than six years old. As a rule, any child inside the prison is handed over to relatives outside when he is over six years of age. And those who do not have any relatives, they are handed over to the concerned people of the Ministry of Social Welfare. They keep the child in a government child family.
Concerned people also said that the children under the age of six who are in jail with their mothers are taken care of by the jail authorities. The name of the child who first came to the prison is included in the registrar. If the child needs to be sent to day-care, he is sent there. Arrangements are made to provide food and nutrition to the child as per the advice of an Assistant Surgeon. In addition to children's meals, clothes, sports equipment and treatment are provided in a child-friendly environment. A deputy of the district supervises these matters round the clock.
Colonel Iqbal Hasan, Additional Inspector General of the Department of Prisons, told the Bengali Tribune that there were 3,063 women prisoners in jails across the country till Thursday. There are 337 children in jails with them. After the age of six, the children are handed over to their next of kin or to the Ministry of Social Welfare.

He said there are 1,049 women prisoners in Dhaka Division, 546 in Rajshahi Division, 26 in Rangpur Division, 696 in Chittagong Division, 106 in Sylhet Division, 320 in Khulna Division and 95 in Barisal Division. . None of them are above six years of age. And juvenile delinquents under the age of 18 are sent to juvenile correctional facilities. No children between the ages of six and 18 are kept in prison.
Asked if the mental development of these children was being hampered, Additional Inspector General Colonel Iqbal Hasan said, "Only mothers who want to keep their children are kept." In this case, we have nothing to do. But we are always vigilant so that the children can live in a beautiful environment and play. '
Asked if the mental development of children in prisons is being hampered, Sultana Algin, an associate professor in the Department of Psychiatry at Bangabandhu Sheikh Mujib Medical University Hospital, told the Bengali Tribune: Growing up in a criminal environment early in life can have an impact; Which may remain in later life. We have to consider whether a separate schooling and society can be built for them. After getting out of jail, they have to be treated properly. '