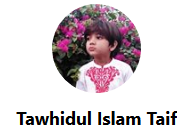 Tawhidul Islam Taif is one of the best smiling face of Kids model and Actor in Bangladesh who has achieved the heart of Bangladeshi Audience. Taif is good looking and his hair his amazing. Every one loves his hair so much and love to play with his hair. Taif is one of the smallest actor in Bangladesh.
Story of A sweet Voice:
Just opening the television a sweet smile breezes around. As soon as the sound goes around, mom comes from the kitchen. At that time, maybe the dish was about to get spoil. But is there any time to pay heed to that moment? In front of the sweet smile nothing is comparable. A little prince is saying, " বাবা বলে বেশি বেশি পানি খাও, সব পানি না" Dad tells to drink more and more water, but not all the waters. If there are germs in it then stomachaches might occur. Mom used to give boiled water. Then they set up this. Now I don't get stomachaches at all. Set this up in your homes and you won't get stomachaches either. This sweet voiced child's name is Taif.
Family and others:
His full name is Tawhidul Islam Taif. He's the third prince of his family. He has two more big brothers, Mushfiq and Tashdid. In spite of being the 3rd prince of the family, he's the biggest source of happiness in the family. Always engages everyone in his naughtiness and sweetness.Taifs Dad Md.Rafiqul Islam Sharif works in a private company. And his Mom Momotaz Yeasmin Tania is a house holder. Although, she's a house wife but she doesn't have the opportunity to stay at home. She has to t Taif out for shooting all the time.
Birth and Education:
This famous little star was born on 4th march, 2015 in a private hospital near the famous New Market in Dhaka city. He lives in Kazipara, Mirpur with his mom,dad and his two brothers. He says that he has grown up. Although his age is only five. Taif has two brothers. His elder brother Mushfiqur Alam Hridoy, who reads Inter 2nd year at Dhaka City College. And his middle elder brother Tashdidul Ishlam Tashdid( who reads in 8th grade) at Monipur Higher School.(3rd Section of the School).
Taif now reads in play-group. His school's name is Green International English Medium School. In spite of reading in play-group he's a superstar. All around the country in various bill-boars and posters his picture can be seen. Just opening the television we can see his face even we can see him in the pages of the calendar. Everyone at his school adores Taif a lot. Everyone is happy to get a little celebrity among them in the school.
career and others :
At present among all the actors and actresses working in the Bangladesh Telefilm and advertisement cases, Taif is one of the best among them. Everyone loves Taif so much because of his amazing voice and beautiful hair. Taif keeps everything amused in the shooting set whenever he goes there.
Behind the success of Taif in media line, his mother played a very significant role. He couldn't have worked within a very short time without his mother's help even! Also he couldn't have imagined to come in the touch of many prominent artists as well. Taif worked with many famous and genius directors like Amitabh Reza, Himel Ashraf, Mabrur Rashid and many others. In fact Mabrur Rashid Bannah calls Taif 'Mama'. Taeef just wants to show gratitude towards all the people who made the present version of 'Taif '.
Taif has a special friend who loves him like an elder brother. He sometimes tries some silly jokes on Taif like one day he compared Taif with current and himself with mobile phone. Taif laughed huge on this. Then one fine morning, Taif's interview was published at the page of Kochi Kachar Ashor in The Daily Ittefaq. This interview was taken by a student of Chittagong University, Muntasir Siam with the help of Zazafee.
The all rounder Sakib Al Hasan hits magical centuries through his bat in the cricket match on the other hand,Taif casts the magical spell through his amazing talent of modeling and acting. Like that sum total amount of Taif's work is 100. He touched the century in this field by taking part in different music videos, ramps, photo sessions, dramas and tv commercials. Recently Taif created agreements with Robi and Sailor for 3 years to work as a model. Many people just know Taif as one of the stylish models. Specially his hairstyle is too much fascinating and he receives an advantage of 'Extra Love ' for his lovely hair. Likes & Dislikes : Taif is just so foodie. He loves foods but he is choosy in this case as well. His favorite foods are Biriyani, Grill and Nun. He also likes as usual trendy foods, ice cream and chocolates. This style icon loves to wear jeans and T shirt. His favorite color is Black and red
You may Read about :