13-year-old Marlow Barkley was born on November 18, 2008 in California. From a young age, she began acting in a theater in Monrovia, California, which led to work in national television commercials, and gradually made her way into Hollywood movies. She is quite popular on social media Instagram. This year, two of her movie has released made by Hollywood, one of which is "Spirited" and the other is "Slumberland". Last November 18, on her 13th birthday, her new movie "Slumberland" was released on Netflix. zazafee interviewed this globally popular teenage actress on behalf of Teenagers.
Question: Greetings from Kachikachar Asar. When we contacted you, we didn't think you would give us time. Did you know about Bangladesh before?
Marlow Barkley: Thank you. I was busy with the release of a new movie starring me and my studies were also a bit stressful. As a result, I could not reply on time. Moreover, being a teenager according to the rules, parents take care of everything. They were quite surprised when they saw that a Bengali newspaper from Bangladesh would interview me. I was just as happy as they were to hear that a popular newspaper in such a distant country would interview me. It is an honor for me. Before this I have known about Bangladesh in World History but not that much.
Question: Right now your new movie "Slumberland" is trending on Netflix. And the interesting thing is that the movie was released on your birthday! We want to know your feelings.
Marlow Barkley: The best present for my 13th birthday was the release of the movie. This is a dream movie. This movie became a huge hit worldwide. Nothing is more exciting than a movie of mine released on a birthday. The experience of watching the movie with the entire family, parents, is truly enchanting. Friends also raved about the movie.
Question: Do you remember when you wanted to be an actress? And what was the main reason for wanting to be an actress? Did you want to be an actress after watching someone's performance?
Marlow Barkley: I love this question. I remember very well that I used to sing with my sister. I didn't think I would be an actress then. At such a time an agent contacted us for an audition. It was an audition for the Hollywood movie "Single Parents". Me and my sister went. I didn't think that they would choose me. But surprisingly they chose me. It was the first big project of my life. It took two years to complete.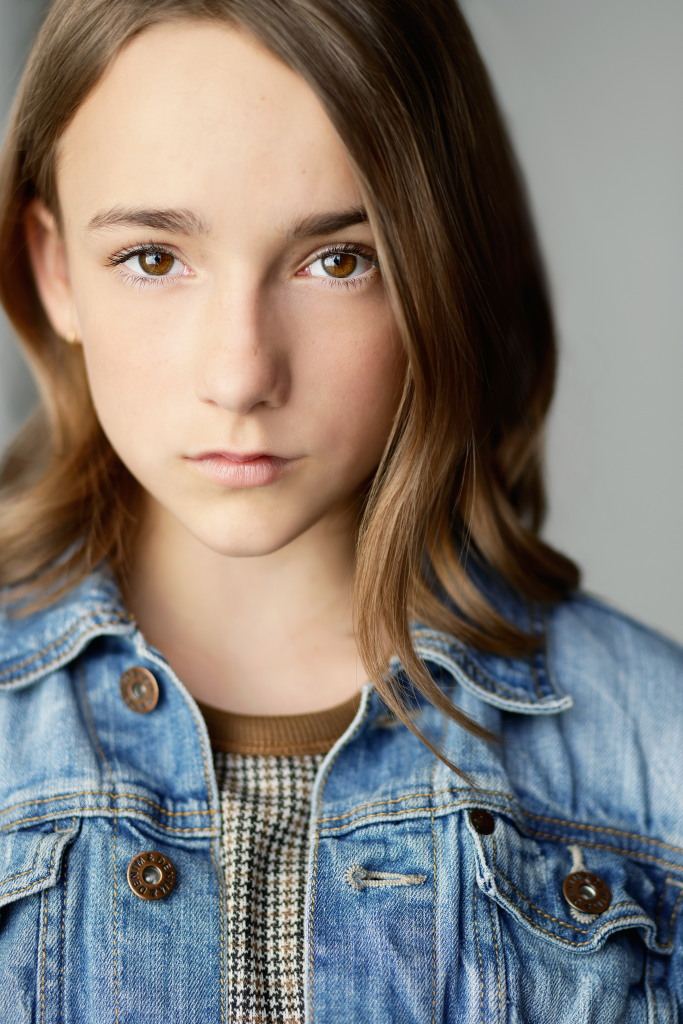 Question: What is your favorite musical show? What musical would you like to be in on Broadway?
Marlow Barkley: I would love to do Beetlejuice. I think it would be so much fun to play Lydia—any role in Beetlejuice would be amazing because it's such a fun musical show.
Question: Now we want to know about working on the Christmas story based movie "Spirited". It is also a musical movie. How interesting is it to work in such a movie?
Marlow Barkley: I've actually been a fan of Christmas movies since I was a kid. It is also a musical movie. When I saw that world-renowned musicians like Will Ferrell and Ryan Reynolds were working in this movie, I was naturally intrigued. Because I know that Christmas related movies are watched by the whole family and Ryan and Will Ferrell have a lot of fans around the world so they can be easily identified me. It's definitely great experience working with them. Then I read the script and said to myself "Oh this is a great story, I have to act in this story. Specially when I saw that I have to play two different characters".
Question: We want to know the experience of working with adults on shooting sets. Are there any difficulties in working with adults?
Marlow Barkley: To tell you the truth, I like acting with older people more than younger ones. Because of this I matured very quickly. Everyone calls me a kid while acting with kids but not when I work with adults because I'm the only kid on the set. I can blend in with them very well. I think acting with adults is easier as a teenager than acting with younger ones.
Question: The plot of dealing with loss is very close in your films "Spirited" and "Slumberland". Although your character is different and you are seen most of the time in the movie. Which movie do you like most and what is your opinion about working on multiple movies with such a plot?
Marlow Barkley: I watched both movies intently upon release. I specially liked the movie Slumberland. It was a great experience to act in this movie. The exciting scenes in the movie that everyone is getting excited about are actually shot indoors, that is, on the green screen! VFX has been used in such a way that I was shocked to see my own scenes in the movie. Basically both the movies are funny. But I like Slumberland most. The character of this movie was challenging. I really like to work in this kind of movies.
Question: I know Chris O'Dowd, Jason Mamoa and you were first cast in the movie. Did you practice mutual understanding in that case? That is called grooming.
Marlow Barkley: I did some work on getting along with Jason but not with Chris. Chris and I shot live on set without any practice though which was a bit unbelievable. But I didn't think the scenes would be so good without some practice. And I had a Zoom meeting with Jason. And to be honest I was very nervous at the beginning of the Zoom meeting because it was my first meeting with him. But the best people are the ones who helped me adapt very easily. We had a lot of fun during the shoot because in between role plays his dog would call out and he would drop everything and go ahead to stop him. All my stress melts away instantly while acting with him. I learned a lot from him.
Question: We saw you get into character in the movie Slumberland. We didn't think it was a movie. It felt like actually seeing Nemo in a lighthouse in the ocean. Why choose such a complex character?
Marlow Barkley: I auditioned for Slumberland first. I was allowed to read the script. I was so impressed by the script that I told director Francis Lawrence during the audition that I would watch the movie even if I didn't get the role or was selected. Because I found that I really connected with the character Nemo, specially the events in hier life touched me. Later when I played this character it felt like it was my own life story. I felt like I was really traveling with Nemo in a strange world. The takeaway I got from this movie for real life is to be patient. And be aware of your surroundings.
Question: We saw you stay underwater for a long time in the movie Slumberland. Guess it was all CGI and special effects. right or not? How does it feel to act in such a fictional story?
Marlow Barkley: It was pretty insane. Some parts were terrifying. Some parts were thrilling. I think I was so terrified that it became thrilling for some of the scenes. But it has always been my dream to do stunts. So getting to do a lot of my own stunts was really cool. We filmed a lot in a pool, so I was underwater for water scenes.
Question: We are in awe of your performance. This is the magic of cinema. You have a lot of acting experience now. You are a multi talented actor. Want to know what kind of movie you want to act next? What kind of character do you want?
Marlow Barkley: I really want to be in a horror movie. I'm a scaredy-cat, and I cannot watch horror movies. They freak me out unless I'm with a good group of people. But I would love, love, love to be in a horror movie. I want one that's like super graphic, a lot of fun makeup. I want a cool fight scene where my nose is bleeding and I've got this big injury or I play a monster or I'm possessed. That would be so much fun because I'd get to see what it's like behind the scenes. … In Slumberland, there was not a lot of big, crazy, bloody action/scary stuff, so it'd be cool to see how horror movies work.
Question: Since you said about make-up, let me ask you about this. We saw you at the Slumberland movie premiere in Los Angeles and you are a very beautiful and sweet girl. Would you say that you are very conscious about beauty and fashion?
Marlow Barkley: Maybe a year or two ago, I would have definitely said I'm more of a makeup person. I always say every time I do a fitting [that] the me two years ago would be looking at the outfits that I'm wearing now and be surprised—like, "Are we sure? Are we actually gonna wear this, or are we just messing around?"—because I'm wearing crazy dresses. I would not have worn that [premiere look] a couple of years ago. So now, I'm more into fashion. But every time I get to have a little glam moment, I get very excited because I just love the process and seeing the before and then the gorgeous after.
Question: We actually saw you as a 12-year-old kid as Nemo in Slumberland. But at the premiere show of the movie, you felt quite grown up. Did you want to expose yourself to the press as a relatively big one? How do you like such a colorful moment?
Marlow Barkley: I'm a teenager. I'm still 13, I'm still young, but I'm not too young. I can be mature, and I'd like to show people that. Lately, I've been more fascinated by bright colors and big, bold statements because I think that it expresses feelings and emotions that you can't really say.
Question: So what is your next goal? When will you return to work?
Marlow Barkley: Well, I have a part in a new show called Tiny Beautiful Things. I am in a couple of episodes where I play the younger version of Kathryn Hahn's character. My friends can't watch it because it's definitely not a kid's show. But it's fun to be in a show that's not meant for kids, so I'm excited to see how that goes. Plus, I've been doing auditions, and my fingers are crossed for a Slumberland 2—but you didn't hear it from me!
Teenagers: Thanks Marlo. I hope to see you in more amazing movies in the future.
Juvenile actor Marlow Barkley moved swiftly from regional and children's theater to television commercials, a starring role on ABC's "Single Parents" (2018- ) and a performance at the Hollywood Bowl – all by the time she reached fourth grade. Raised in Altadena, California, Barkley began performing at the age of five with Centre Stage Inc., a children's theater group in Monrovia, California. From there, she appeared in regional theater, which in turn led to national television ad campaigns and voice-over work for the popular Nickelodeon animated series "The Loud House" (2016- ). In 2018, Barkley made her debut as a network series regular as the daughter of single dad Taran Killam on the ABC sitcom "Single Parents." That same year, she played Kate, one of the orphans in an all-star production of "Annie" at the Hollywood Bowl in Los Angeles, California.
Marlow Barkley is known for Single Parents (2018), Spirited (2022) and Slumberland (2022).
Marlow Barkley is the breakout star in the new Netflix fantasy film 'Slumberland.' Get to know the talented 13-year-old actress. She starred in the sitcom 'Single Parents'.Marlow Barkley, 13, stars with Jason in the fantasy adventure movie, which hits Netflix on Nov. 18. It takes place in the Dreamworld of Slumberland, where a young girl (played by Marlow) work with an outlaw (played by Jason) to see her late father again. The adorable dynamic between Marlow and Jason looks like it's going to be the highlight of this feel-good film.She started acting at 9 years old.
Marlow's first acting gig was a voice role in a 2017 episode of South Park, according to her IMDb. Marlow was only 9 years old when she appeared in the hilarious animated sitcom.
She starred in the sitcom 'Single Parents'.
Marlow had a starring role in the ABC sitcom Single Parents, about a group of single adults with young children. She played Sophie Cooper and her dad was played by Taran Killam. The show also starred Leighton Meester, Brad Garrett, and Jake Choi. It was cancelled in May 2020 after two seasons.
She's in a new Christmas movie.
Marlow is in Spirited, the new Christmas musical movie on Apple TV+. Will Ferrell and Ryan Reynolds star in the film, which starts streaming on Nov. 18. Spirited is a retelling of Charles Dickens's A Christmas Carol.
Marlow is active on social media.
Marlow has over 10K followers on Instagram. She regularly posts content promoting her acting projects. On Aug. 1, Marlow posted a sweet photo of herself and Jason, to wish her Slumberland co-star a happy birthday. "Happy Birthday, Flip! Love, Nemo ❤️ Miss you, buddy. @prideofgypsies," Marlow wrote.
When the clock strikes midnight on November 1, the vibe typically shifts from spooky to festive, but Marlow Barkley and I are meeting in a quiet moment somewhere in between. The 13-year-old actress logs on to Zoom from her family's home in Southern California during what is definitely the last quiet weekend of her year and, perhaps, for years to come. As she is the star of not one but two excellent family-friendly movies premiering this month, Barkley's life is about to change in a major way. Buzz about Spirited and Slumberland is high, and the excitement is palpable.
Barkley got her start as Sophie Cooper on the short-lived series Single Parents and has been plotting her course through Hollywood ever since. Despite the industry- and adolescent-disrupting COVID-19 pandemic, Barkley has used this time as an opportunity to hone her craft and think about what she wants for her future. Fortunately, I had a chance to connect with the in-demand actress before she set flight to NYC to kick off a whirlwind few weeks of events and press junkets. At home, comfortably clad in a gray hoodie and purple T-shirt, Barkley shares her experience working with A-list adults, the magic of cinema, and, of course, her evolving personal style. Trust me—she's one to watch this holiday season and beyond.