Batting genius Brian Lara: The Prince of Trinidad."I enjoy batting. I would not enjoy watching another person batting. I wanted to stay on the field, not in the dressing room, I wanted to bat. If the team plans to bat five sessions, then I will bat five sessions. When my captain announces the innings, I was supposed to leave the field only then."
The words are from Brian Lara He has reached a peak of 365, 400 *, 501 * runs with the mentality of batting throughout these 5 sessions. And there are 9 double centuries in Test cricket too as his record. 19 of the 34 Test centuries had scores of more than 150! Lara loved to rule in the glister of beauty. The 'Prince of Trinidad' was born with the strange skill of crossing boundaries. Batting beauty is the last word of this batting poet.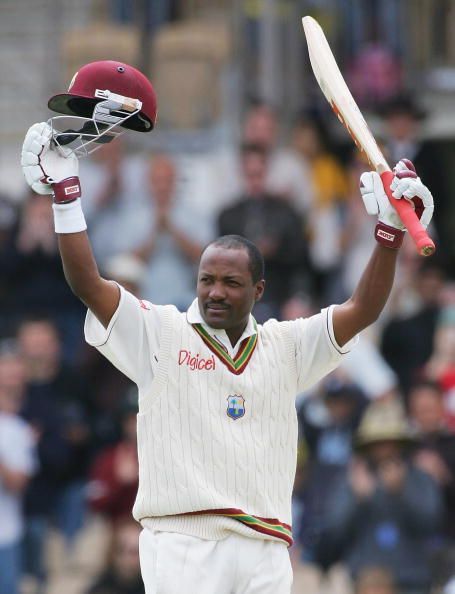 His opponent Glenn McGrath may have said for that reason, "If I want to see someone batting with the last penny in my pocket, I'll watch Brian Lara's action." Lara's name spread to the Caribbean islands in the late '80s. Kartley Ambrose bowled Lara for the first time and understood what does it mean to be a genius! Brian played against us in 1988. He scored 46 runs that day. I clearly remember, bowling him seemed to have something special in him. '
At that time the fast bowler of Barbados team was Joel Garner, Marshall Malcolm.18 years old Lara scored 92 against the Caribbean legendary fast bowlers. Seeing Lara legendary batting against Garner-Marshalls, the spectators on the field also started laughing. One spectator pointed a finger at Garner and said, "You two West Indies fast bowlers couldn't stop this little boy! I can't believe my eyes!" Lara's story spread throughout the Caribbean.
He didn't have to wait long to get a call in international cricket. But he had to cross an ocean of tireless training and audacious hard way to get his debut cap for West Indies. Despite being on the England traveling team in 1990, he did not get a chance to play. Captain Viv Richards made him bowl 25 overs in the warm-up match. Lara became the driver of the Vive and memorized the roads of England.
And there was also work to draw water during the match. Another legend from the same team, Malcolm Marshall, was skeptical of Lara's batting technique. He(L) was not even supposed to get a run in international cricket because of such a high backlift according to Marshall! Lara didn't take long to prove Marshall wrong. In the 1993 Sydney Test against Australia, Lara showed the world his potential. Lara's first century came in the ninth innings of his career. He turned the century into a double century.
It was going to be a triple century then. Lara's Test career could have been started with a triple century like Sir Gary Sobers if he had not been run out for Carl Hooper's mistake during the 277 runs. Australian legend Ian Chappell said of Lara's innings, "The Australians would not have been able to get Lara out if it had not been for that run-out. It never thought he might be out. That day I realized that this boy could easily score 300 runs. He had plenty of shots in his hand. But in the beginning, the shot was obstructed by the fielders.
However, all the shots he played in the 277 run's innings were through the empty boundary" Lara's next century came against England, and the 167-run innings against England in 1994 was an indication of something great upcoming. Something really great comes towards the end of the same series. Lara surpassed Gary Sobers in a marathon inning of 375 runs. Gary set a record of 365 runs in his 17th Test innings.
In his 16th Test, Lara surpassed the homegrown legend to set a new record for the highest individual run in an innings in a Test. Then Rahul Dravid has just started his journey then. Lara's insanity in world cricket fascinated him. His favorite batsman was that left-arm. Despite being Sachin Tendulkar's teammate, Lara was Rahul's favorite batsman. Many years later he said, 'We were amazed to see what stardom was. What Lara did in the '90s is incredible. It's a dream come true for any cricketer. ' Wicketkeeper missed Lara's catch at the very beginning in a match of Warwickshire shortly after the record-breaking innings.
Someone muttered from behind, 'Ah, he must be done at 100 now.' The next story is told beautifully by Michael Atherton, 'Then Lara does one hundred, then another one, then another one, then another one.' Then who would have thought that someone would score 500 runs alone! Lara scored 501, the highest score in the first-class history so far! When he visited England in 1995, Lara made us recall Viv Richards inning in 1975. 765 runs came from his bat in one series.
Who doesn't remember Lara's incredible century against South Africa in the 1998 World Cup quarter-finals! Still, Lara's that century make chatter storm. Then came that memorable innings in the 1999 Test. As long as cricket lasts, Lara's 153 * innings against Australia will be written in the golden letter of history.
No one remembers the great innings of 213 runs in Port of Spain, as he played that incredible 153 * in the next Test at Bridgetown. 308 runs needed to win the fourth innings, Lara was batting with Walsh. Lara made history by bringing Australian bowlers down to the rank of club bowlers. Jason Gillespie still remembers the Caribbean star's innings with a thorn in his side, 'That innings was an incredible example of finding gaps. But we didn't do bowling badly. But sometimes you have to hats off to congratulate your opponent.
That day was such a day. ' Can it be forgotten about the West Indies team's tour of Sri Lanka in 2001! The Sri Lankans may have remembered losing 3-0 to the West Indies, but the whole world remembered Lara for another incredible feat by him. Muttiah Muralitharan was a terrible bowler then With Sri Lanka's spin helpful wicket. There are 688 runs from Lara's bat in three Tests! Lara could not get rid of Murali in the first Test in Galle. Like the rest of the West Indies batsmen, he could not understand which was the second off-spin, which one is not.
Lara's teammate Ramnaresh Sarwan used to call Lara 'Boss'. He asked Lara, 'Boss, tell me what can be done?' Lara smiled and said, 'I don't understand what Murali is doing. So today I will just sweep. As the series progresses, I will start reading what is off-spin, what is second off-spin from Murali's hand. Then I will leave the crease and start playing when the last Test comes. In the Gaul Test, 178 runs came from Lara's bat, 221 in the first innings, and 130 in the second innings of the last Test in Colombo came from the bat of this left-arm batting genius.
In October 2003, Matthew Hayden broke Lara's record of 375 runs. Lara didn't like losing the crown to Hayden. Lara took the throne back in April 2004. Returning to the 1994 Antigua Test as a time machine, the same opponent set a new record of 400 against England, surpassing his own record of 375 and Hayden's 380. Naser Hossain was fielding in a short leg that day. After 100, Lara hinted to Nasser to set a new record, 'I was short-tempered that day.
After 100, he looked at me and said, "Maybe I can run after my new record." He knew the wicket was so flat that it was a chance to set a record. Lara didn't lose his genius even while he came in the evening of his career. The Caribbean legend reached the highest run-scoring record in Test cricket with a 226-run innings in the 2005 Adelaide Test against Australia. Though at the beginning of the innings, Lara was batting in the sleeping mood. But this is the lesson that Lara taught Ricky Ponting that day, not to wake the sleeping lion.
Seeing Lara's slow batting at the start of the innings, Ponting sat down from the slip and said, 'Brian, please play some shots. You are bothering us all. ' In the next hour and a half, Lara alone added 150 runs. He was dismissed after adding 226 runs in his personal notebook. Brian Lara said goodbye to cricket with the 2007 World Cup. During the farewell, he asked the audience, 'Am I able to entertain?'
Written & Translated  by Mehedi Hasan Ashik
You may read about:
·        Age that wants to explore alone
·        The future of Bangladeshi children's film
·        History of Children  Movies In Bangladesh